This post may contain affiliate links for your convenience. If you click such a link and make a purchase, I may receive a commission at no extra cost to you. As an Amazon Associate I earn from qualifying purchases. This is one way I am able to keep my blog up and running. For more information, see my disclosure policy here
You feel scattered, overwhelmed, and all over the place. You know you need structure but how? The question arises, how to plan your day but still be flexible, right? Not every day is alike. Heck, no day is the same as yesterday or tomorrow. But by being a bit more structured you can get a whole lot done in a day.
I have my best days when there is structure. I love going by a schedule knowing what comes next. That's how I don't forget things, although I write a whole lot down too. Some people might find it suffocating or stifling. They feel they have no choice, no room for spontaneity. But I see my schedule and routines as guidance and direction. Besides, nothing is set in stone, right?
Why is it helpful to plan your day
There are a few good things regarding how to plan your day. Think about it:
you don't forget things
you are prepared or can prepare in advance
which reduces stress
you don't need to remember everything for the day if you write things down
you save time by planning in advance
The benefits of planning
So planning in advance can give you peace of mind. You check your to-do-list and each morning, you pick out your priorities for the day. Planning also gives you a good feeling at the end of the day. Especially, when you ticked off everything that you wanted to accomplish that day. And you don't forget appointments, meetings, or to exercise.
You can use a planner, bullet journal, or app on your phone to get everything organized. I use a paper planner and I color-code my tasks. I use a blue fine-liner for business tasks, a pink one for personal to-dos and a green fine-liner for appointments. It works like a charm. And when a task is accomplished, I check it off. A great feeling!
How to plan your day?
If you too want more control over your hours, try one or more of the following 9 tips:

Whether you are an early bird or a night owl, usually we have a certain time when our alarm clocks go off, right? To best get into gear, incorporate a morning routine. Even if you are not fully awake, you go on autopilot. That way you don't forget to do things and you take everything with you.

At least once a day, get everything out of your brain. As David Allen said: "Your brain is a thinking tool, not a storage place".

3. Write things down
You can think of this regarding your brain dump. But you can also use a bullet journal and write down what you want to focus on that day. Or write down what you're grateful for in a gratitude journal.

4. Set one to three priorities for the day
Set just one to three priorities for the day. Don't get overwhelmed with everything you need to do but focus on only those things. I usually have one big priority for my business and one priority on a personal level. If you have more things on your to-do list, spread it out over several days and plan ahead. Write it down on your calendar. That way it's out of your head and you know you're coming back to it later in the week.

5. Use a family calendar or a whiteboard
To let every member of the family in on things to do, write everything down in a family calendar. Or use a whiteboard that hangs somewhere central in your home.

Just like a morning routine, create one for your evenings. Maybe you want to plan your tomorrow or reflect on your day. It's also a way to wind down. End your routine with quiet time, whether it's reading, relaxing exercises or meditation.

Pick a day where you sit down alone or with the family. With your plans for the coming week in mind, make a meal plan together that fits your weekly plans. This will save time and again it's out of your brain. No more agonizing what's for dinner every evening. You could prepare early in the day or take a day where you prepare most of your meals for the week.

8. Shop for groceries once or twice a week
With your meal plan made, make a grocery list and go shopping once or twice a week. To save even more time, write down your groceries using the layout of the supermarket. I made a list in Excel where the aisles of the store are in the correct order on my shopping list.

9. Be consistent
Last of all, be consistent. If you create routines for yourself, things and actions start to flow better, giving you more peace and harmony in your day. And saving you precious time.

How do you create a successful day? Help me spread this article by sharing it on Pinterest and Facebook.
Other posts you might enjoy:
Have a nice and well-planned day!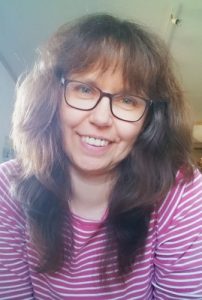 Hi, I'm your time managing and organizing best friend. I am a mom of 3 teenagers and married to my best friend.
I love to show you as a working mom myself, how to juggle your time using routines & schedules and give you time managing tips.