This post may contain affiliate links for your convenience. If you click such a link and make a purchase, I may receive a commission at no extra cost to you. As an Amazon Associate I earn from qualifying purchases. This is one way I am able to keep my blog up and running. For more information, see my disclosure policy here
If you set goals for yourself, at one point you want to know how you are coming along, right? Where are you in reaching your goals?
Reviewing your goals is a great way to know where you stand and which tweaks you need to make to get back on track when needed.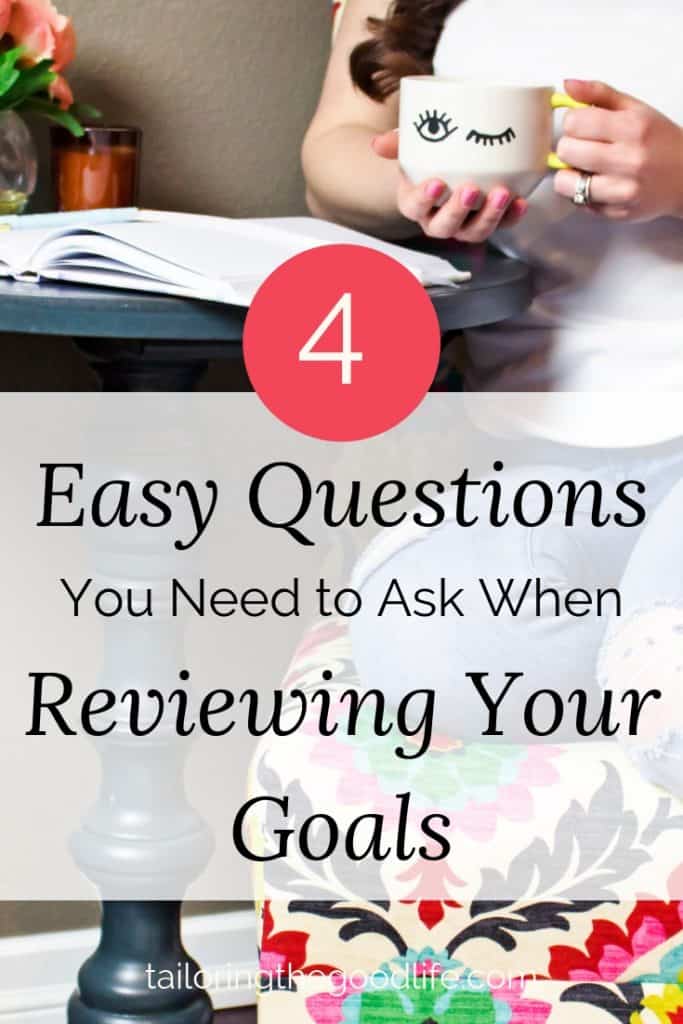 Every 12 weeks, I set a goal for my blogging, my quarterly goal. It's specific and measurable so I can look at how I'm doing. My goal has steps (or mini-goals) I need to take to get closer to achieving it.
Every week, I go over what those steps were, and if I was able to complete all the steps.
Reviewing your goals
Why is it necessary to check on your goals? You can just wait and see whether you reached your goal at its deadline, right?
Well, of course you can do that. But it's not wise. I'll tell you why.
It could be desirable to adjust your goal halfway. Maybe your situation has changed.

Is your goal still relevant? It may be that you've worked on your goal, but now it doesn't fit you or your circumstances anymore.

It's possible you already reached your goal. Hurrah, good for you!

Perhaps, you need a new goal. Because your goal isn't relevant anymore or you've reached your former goal.
That's why it's important to evaluate your goal before its deadline. Now let's talk about how we can review your goal.
The 4 questions
1. What goal did I set for myself?
Do you remember exactly what your goal was? Hopefully, you have written it down somewhere, in a notebook, in your planner, or on the first page of your bullet journal.

Only when you know exactly what your goal is, can you review it properly.
2. When did I set this goal and what was my deadline?
Actually, these are 2 questions, but they are closely related to each other. You need to know when you have set your goal. That, together with your set deadline, is when you can determine, whether you're on track.
3. Why did I set this particular goal in the first place?
What was your intention to set this goal to begin with? Ask yourself if you are still wanting to work on this goal. Does it still contribute to your life?
Are you still enthusiastic about it? If not, it's ok to leave it be. A goal is not something you háve to work on or to reach when if doesn't serve a purpose anymore. It would be a waste of your precious time.
4. Are you still on track in reaching your goal?
If you are, pat yourself on the back, you're doing great. Keep up the good work!
If not, what could be the issue here? Were there circumstances beyond your control that got you sidetracked maybe? It's possible you got overwhelmed. Whatever it was, don't beat yourself up about it. You can't go back in time, only thing you can do, is think ahead.
Maybe you need to adjust the timeline on your goal. Was it too big a goal for the time frame, then you can do 2 things. Push back the deadline, or make your goal smaller within your time frame.
For example, your goal was to learn a new language in 3 months. You had carefully broken up the lessons into smaller goals. But then life came in between, and first your kids got sick and of course, in the end you ended up in bed too. That can easily throw you off with a couple of weeks before everything is back to normal again, right? We've all been there.
It's no shame to add another month into reaching that goal of finishing your course. Your health and that of your family is most important. And even if you just didn't feel like studying for a while, there is no shame. Just pick up where you left off. You can do this!
How to go forward?
First of all, when your goal needs to be adjusted, don't give up. Maybe you just need to do a little adapting and you're good to go again.
If this isn't the case, then you may need to abandon your goal and possibly set a new one. On how to set a goal, I wrote an article about the process earlier:
Successful Goal Setting, the What, Why, and How
You'll find all kinds of info there about how to reach a goal, what kind of goals there are, and much more.
Goal Setting and reviewing your goals is a great way to become more productive as well. In the Productivity Bundle is a worksheet to help you track your goals and see where you're at. You can find it in my shop.
But if you want to work on your productivity first, I suggest you download the Questionnaire for Productivity.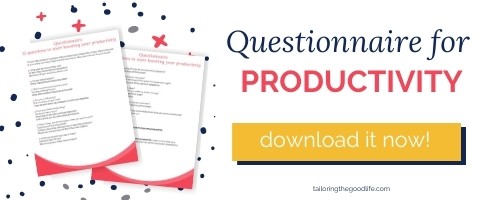 2 Final tips
If you want to measure the progress and keep a close eye on how you are doing with your goal, you can always journal about it daily.
That's how I keep tabs on how I'm doing. I write my steps down in my planner. Plus I journal every morning (I'm a morning bird, so…). And I tell my journal what needs to happen today. Writing it down daily, gets me in the right mindset to work on my goal.
From my journal, I recap my weeks, months, and quarters. I use bullet point, so I can see quickly what I have accomplished that week, month, or quarter.
Another idea is to meet up with a friend or a group of like-minded people once a week. You can tell each other what you are going to work on that week. At the end of the week, you share whether you did what you said you would do. Accountability is great like that. I'm speaking from experience.
Other posts you may want to check out: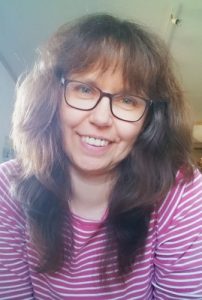 Hi, I'm your time managing and organizing best friend. I am a mom of 3 teenagers and married to my best friend.
I love to show you as a working mom myself, how to juggle your time using routines & schedules and give you time managing tips.