This post may contain affiliate links for your convenience. If you click such a link and make a purchase, I may receive a commission at no extra cost to you. As an Amazon Associate I earn from qualifying purchases. This is one way I am able to keep my blog up and running. For more information, see my disclosure policy here
How are your mornings? Do you start the day with positivity? Or more chaotic, all over the place, always rushing? I bet that doesn't feel pleasant, like you are happy there is a brand new day with all its opportunities waiting for you out there, duh! A hectic begin of the day doesn't brighten you up, does it? No, you need habits to start the day on a positive note.
Why do you wánt a positive start of your day?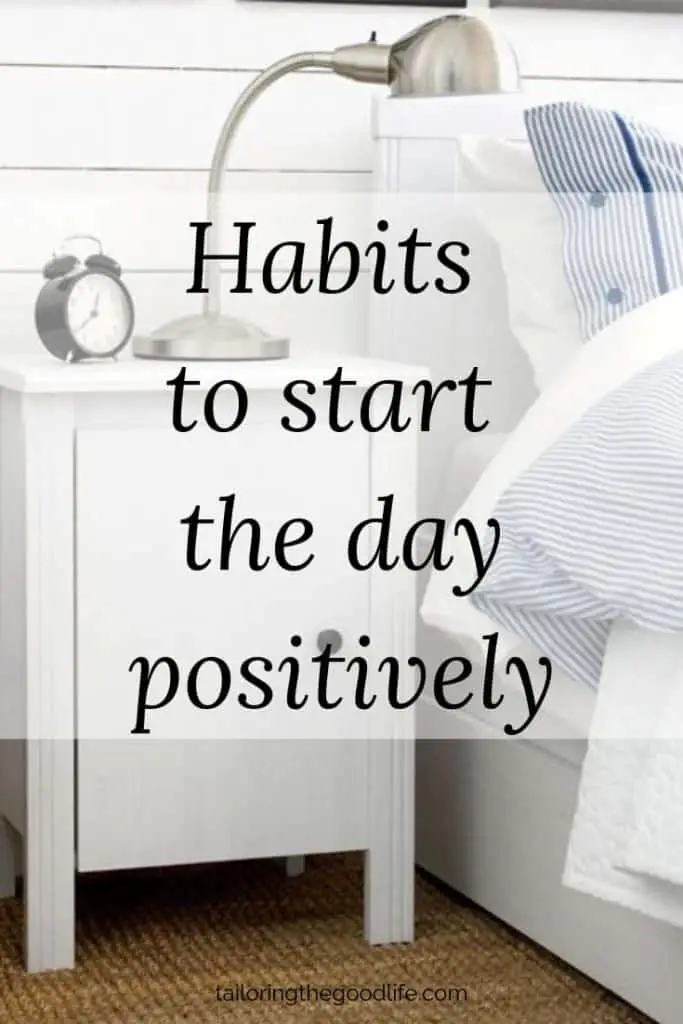 A positive start leads to a positive day. You know that feeling when you get out of bed on the wrong side, it seems like everything goes south? You hit your toe, your toothpaste falls off your toothbrush, even before you reach your mouth, and coffee gets spilled over the breakfast table.
O boy, is it going to be one of those days? And if you don't have good habits in place for your mornings, this day will never turn out positive! But I bet you can still turn that nasty beginning into a great day. You feel reassured because you have good habits in place.
My mornings are roughly the same. Or at least on weekdays. I wake up early at 6 am, 45 minutes before I wake up the kids. First I journal, drink a glass of water to rehydrate, and I set the breakfast table. I unload the dishwasher and once everything is ready, I wake up the kids.
We eat breakfast together and I get dressed. The kids get ready for school while I clear the table again. After bringing them to school, I visit my mom for a cup of tea. I go home and do some exercises and maybe some small household chores, like putting on a load of laundry. Then it's time to get to work at 9 am.
How do habits help?
Habits can get your mornings to go on autopilot. You don't have to think about every little detail. And it also helps to do things in a particular order. Especially, if you are not quite an early bird and mornings are just hard. When you go on autopilot, you save energy for the rest of your day too. And that is not only a positive for night owls.
Tips on how to start creating some morning habits
Let's make your mornings a bit more organized, shall we?
Begin with writing down all the things you want to do. Don't leave anything out. Would you like to unload your dishwasher every morning? Put it on your list. Do you want some me-time before your kids wake up? Put it on your list. For instance, I like to write in my notebook about the previous day and the things I like to do this coming day. It's for me, a way to get my head clear for the day to come. That's why I wake up at 6 am. So although you want to do things, which you don't have time for now, just write them down anyway.
Now it's time to look over your list.
Is it doable to do everything on your list in the time you have from waking up until you have to leave, to bring the kids to school or to get to work? If so, yay! You're good to go. All you need is a proper list to check off your tasks every morning.
If not, you can do 2 things. You can wake up earlier or you can delete things from your list. Maybe you can unload that dishwasher when you come home again. What you want to do is basically up to you. You can try either way if you're not sure. But one thing is certain, if you have a list you can follow and check off, your mornings will go smoother, believe me.
Now that your list is ready, tell everyone around the breakfast table about it. When your kids or husband know what you want to do every morning, the chances of success become bigger. Heck, they may even want to pitch in!
Which habits contribute to start the day with positivity?
Good habits to start your day on a positive note have most of the time something to do with you. There is a lot to choose from:
wake up earlier
don't hit the snooze button
let your phone be, don't check social media
open up your bed to let it air
drink a glass of water
work out or do some sort of training or yoga
journal
read a few pages in your book
practice mindfulness
set your goals for the day #
make a to-do list #
unload the dishwasher
set the breakfast table #
eat a healthy breakfast
clear the breakfast table
check your meal plan and make preparations
take care of your pets
make your bed before you get to work
# you can also include these habits in your evening routine
Building your morning routine
The best way to get settled in a morning routine, that fits you like a glove, is one that you build slowly over time. It takes time to build good habits. You don't have to write your list and do a complete 180 on your mornings. Take it one habit at a time, that's the road that leads to success. And you will stick to it this way.
So start your day with some good habits and a smile. With an organized morning, your day couldn't be better!
Share this wisdom with others around you or on Facebook. And pin this post on Pinterest to (re-)read it later!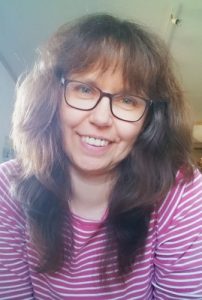 Hi, I'm your time managing and organizing best friend. I am a mom of 3 teenagers and married to my best friend.
I love to show you as a working mom myself, how to juggle your time using routines & schedules and give you time managing tips.