This post may contain affiliate links for your convenience. If you click such a link and make a purchase, I may receive a commission at no extra cost to you. As an Amazon Associate I earn from qualifying purchases. This is one way I am able to keep my blog up and running. For more information, see my disclosure policy here
Every year, around the beginning of the new year, this topic appears on the surface. Choosing one guiding word for the year.
When I asked my husband a few years ago if he had a word for the new year, he stared at me and had a confused look in his eyes. If he had what? A word?, Why did he need a word? And what to do with it? I explained that you could choose a word to concentrate on for the year to come. It could be your theme for the year, something to live by. Through your word, you can grow as a person. Well, I think he thought I was silly. No, he didn't need a word because his goal was to just go on as he did now.
What does that actually mean, choosing a word for the year?
One little word can be powerful in guiding you through your days. It can help you determine your goals and how you are going to reach them.
First time I chose a word as my guide in my work was in 2016. It was FOCUS because I wanted to focus fully on becoming my own boss. I had that word printed out big and it hung on the wall in my workroom. So every time, I came into work, I got reminded to focus fully on what I wanted to do. I still have it hanging on my wall, where I see it time and time again.
The importance of choosing a word
Why would you want to do this too, choosing one word to guide you? It has everything to do with wanting to reach your goals.
Before you are going to brainstorm to find out what your word will be, you need to know your goals. What do you want to accomplish in the new year?
Sometimes it's obvious what word suits your goals best. There is just no better word to describe your goals. Like for example, EXPLORE when you want to find a new hobby or wanting to make that special roundtrip with your family.
Other times you need to set your goals and really need to let it sit. Your word will come to you. Let it rest for now.
Who can choose a word?
Everyone can choose a word. It's very grounding. If you want to work on your goals, one word can take away the overwhelm. You know just where to focus.
Your kids can choose a word to help them in their schoolwork. It is a great life skill to set goals already at an early age and choosing a word that goes with it. Goals can motivate them and increase their self-esteem.
You can also choose a word as a family. For this year, my family chose the word HAPPINESS. We even made it tangible cause I made us a Happiness Jar and we committed to filling it as a family by writing down the little moments in our daily life that bring a smile to our faces.
The other day my youngest asked if she could write 2 notes for the Happiness Jar. She couldn't choose between 2 fun things she had experienced that day!
Another way that expresses Happiness for our family is making collages every year from all the family vacation photos we take. In our hallway, we have 5 big picture frames at the moment with our summer vacation memories. Looking at them brings a smile to my face, every time, again and again. And we already have an empty one waiting for the family photos for this year's summer vacation.
The best time for choosing a word
Usually, you choose a word at the beginning of the new year. It's the perfect time to reflect and look back at the year behind us.
I like to get oriented at where I am right now. What has last year brought me? It can help you set new goals for the year ahead. Are there challenges you want or need to overcome?
You can look at the past and determine what you need, where you want to go. Did you have a busy and turbulent year? Maybe PEACE or EASE is what you need.
Or you noticed your teens "pulling away" from you as their mom, now that they're becoming real teenagers. Maybe you feel the need to CONNECT with them more or on a different level.
One word can take away the fear of finally taking action. It empowers you to do so.
My word for this year will be PERSEVERE with the sidenote "stay the course with focus and courage". One area, I need to persevere is with my driving. I have a fear to drive on the highway and last year, I got some therapy to tackle that problem. I'm not there yet, so I need to persevere to get where I want to be, and that is getting in my car and just do it!
Of course, it's not written in stone that only the beginning of the new year is THE time to choose a word. You can choose your word at any time. It has everything to do with your goals like I said. If you have a 6-month goal, choose your word accordingly, for those 6 months. Life happens and 12 months is a long time.
How do you find your word?
You need to begin with what your goals are for the time to come. Sometimes a word jumps right out of that. And sometimes you need to think it over.
You can ask yourself a bunch of questions. Sara has a great blog post written with just the right questions to ask yourself. Make it an interesting quest in search of your word. Because it has to be your word. It's your life and you need to live by it. It needs to empower you.
Your word can help you to stick to your goals. That one little word can remind you time and time again what you want to accomplish this year. So choose it wisely.
I would love to know what your word for the next year is. And if you have never chosen a word, why not? Will you choose one now?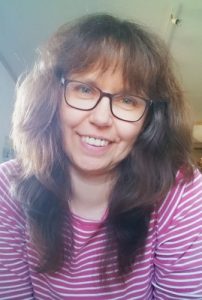 Hi, I'm your time managing and organizing best friend. I am a mom of 3 teenagers and married to my best friend.
I love to show you as a working mom myself, how to juggle your time using routines & schedules and give you time managing tips.