This post may contain affiliate links for your convenience. If you click such a link and make a purchase, I may receive a commission at no extra cost to you. As an Amazon Associate I earn from qualifying purchases. This is one way I am able to keep my blog up and running. For more information, see my disclosure policy here
Sometimes it's tough, right? Getting your family to help with household chores. The kids are always tired or simply don't want to do anything. And your husband crashes on the couch each evening.
I get it, you feel so alone in getting ánd keeping the house clean and tidy. You wished your family would help you with all these dreadful household tasks.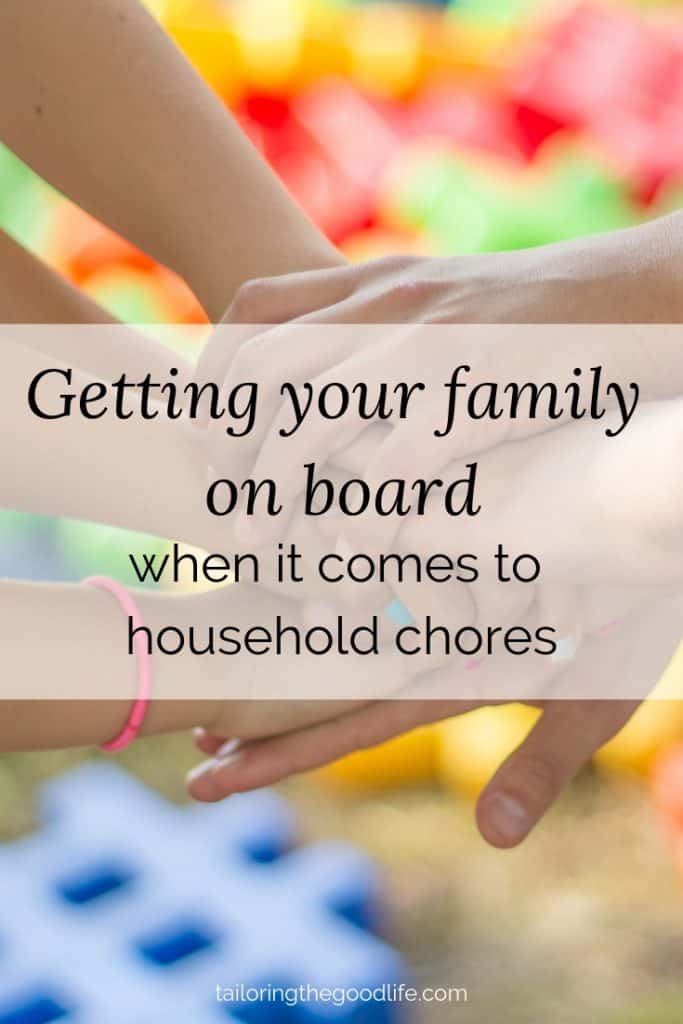 Sharing the responsibility
It's our responsibility as parents to teach our kids how to run a household. Where would they learn otherwise? And how will they ever run their own household when they are adults if we don't show them how to do it. You need to teach them those life skills. And sooner better than later. Let them participate in helping with household chores.
It's perfectly fine to give them something in return. And I don't mean money. But playing a board game together. Or seeing that movie on Netflix with popcorn and ice cream. We do that too sometimes, right? I do. I reward myself with a delicious cup of hot cocoa after shoveling snow. Or a little piece of a chocolate bar after I vacuumed the whole house (yes, yes, I love myself some chocolate, don't judge me!).
Teach them how
Of course, we need to teach our kids how to do a chore. Some are easier than others and our teens are capable of doing them on their own after just showing them once. However, there are chores that need a bit more explaining, like ironing and how to fill the water tank of the iron. How hot the iron needs to be for the different pieces of clothing.
Be patient with your teens. Especially when it's a chore they have never done before. Keep an eye out when, after explaining, they are doing the chore for the first time on their own.
Being a family, being a team
Explain to your kids that a family is, in essence, the same as being a team. The team players look out for each other. They have the same goal to work towards.
As a family, you can set goals too. For example to have Sundays free for family activities or for a relaxing day at home. You need to work together to make that happen. And that means contributing by helping each other with household chores that need to be done before Sunday.
Give your kids the responsibility to do a chore. Teach them how to do something, explain what you want or need to be done. And yes, you also need to vacuum under the couch. That's where those dust bunnies live!
Chores that can be done by the whole family
vacuuming the kitchen or living room
clean the bathroom
grocery shopping
putting the groceries away
cook – kids can cook one meal each week
set and clear the table
clean the kitchen after dinner
do some gardening, like mowing the lawn and watering the plants
shovel snow in the winter
Individual chores
clean up and vacuum your room
change your own bedding
make your own lunch to bring to school
be responsible for your own clothes – dirty clothes in the hamper, clean clothes in your closet
clean up your own spills and messes
Just to name a few. You can come up with some more, no doubt.
Download the Family Chores Board for Free by clicking on the image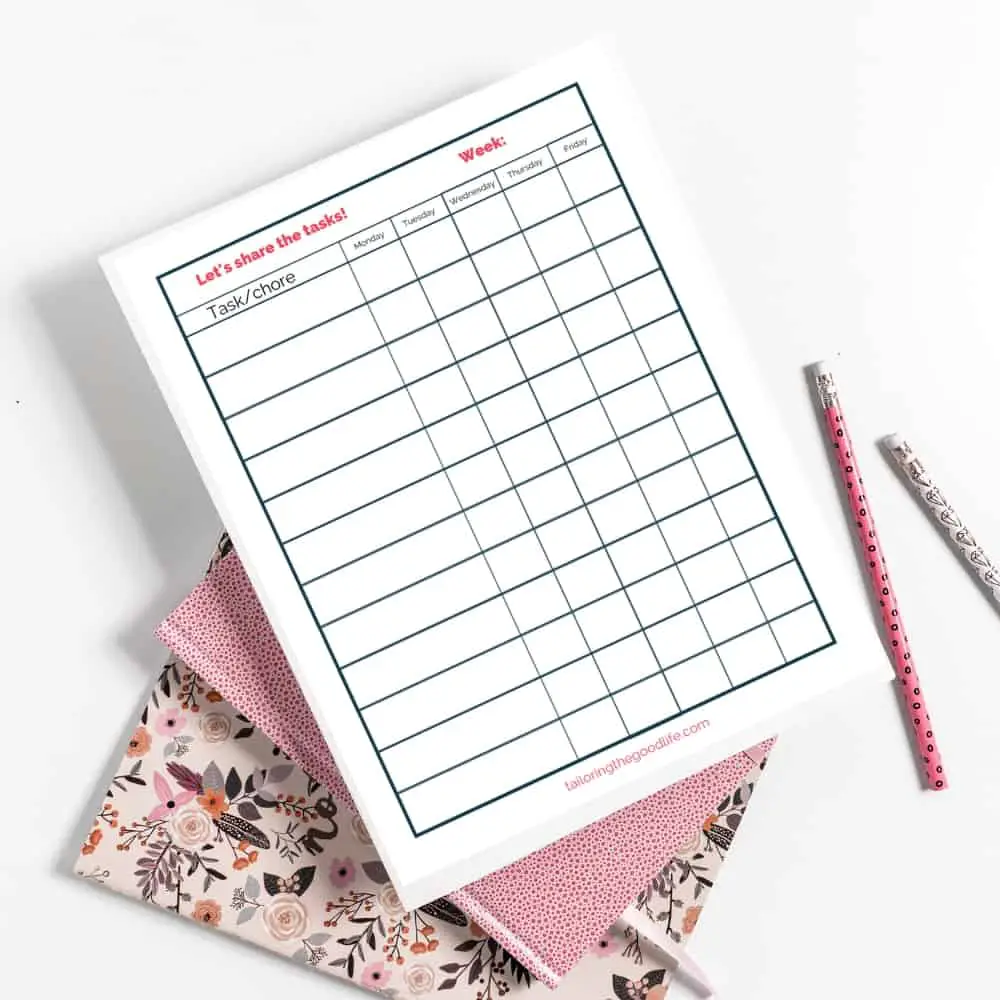 How to get on the same page
I love family meetings. Talking to each other about our next summer holiday or upgrading our downstairs bathroom. It's so much fun to plan and have the whole family involved.
Family meetings are also a great place to talk about sharing the responsibility for doing household chores. Make a list together of what needs to be done on a daily, weekly and monthly basis. You can agree upon what each family member can do and wants to do.
If there are chores that aren't the nicest (cleaning toilets is one in our home), you can rotate on when each member will take on that task.
And talk to each other about what you can do as a family when the house is clean for the week. How are you going to reward yourselves? Give yourselves something to look forward to.
Photo Credit: Write On Decals on Etsy
Stay organized with this fun Chores Chart for the whole family. Use chalk or liquid chalk markers to write and erase on the chalkboard.
Photo Credit: The Little Inkspot co on Etsy
These Cleaning Cards includes 6 different 8.5x11 posters to hang in different rooms or to put in a binder for easy referral. Great to get kids helping out and taking responsibility for cleaning!
Photo Credit: circle and square decor on Etsy
Stylish responsibility chart that will go great into your home decor. Choose your favorite frame and size chart.
Be grateful
My kids learned early on to thank me for cooking a meal for them: "thanks for dinner, it was delicious". This is also a good practice when pitching in on household chores. Tell them that you appreciate their help and praise them for doing a good job. Even tell your husband. Everyone likes a pat on the back, right?
Don't get irritated or mad when a chore doesn't get done. It's hard, especially in the beginning, before doing household chores as a family becomes a habit. You can remind your kid to do a chore or you can ask him/her when he/she was planning to do that chore. Try to keep it positive.
Clean home, happy family
Getting your family to help with household chores doesn't come easy. But it is necessary for our kids to learn, to become responsible adults. Kids can do more than we give them credit for sometimes. And with good communication, you can get them to pitch in. It's their home too, right?
Wanna read this post again later on? Pin it on Pinterest.
Wanna share with others? Post it on Facebook.
Thank you for spreading the word about this blog. I appreciate it!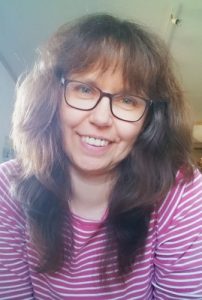 Hi, I'm your time managing and organizing best friend. I am a mom of 3 teenagers and married to my best friend.
I love to show you as a working mom myself, how to juggle your time using routines & schedules and give you time managing tips.