This post may contain affiliate links for your convenience. If you click such a link and make a purchase, I may receive a commission at no extra cost to you. As an Amazon Associate I earn from qualifying purchases. This is one way I am able to keep my blog up and running. For more information, see my disclosure policy here
Do you like to organize or at least BE organized in your life, your home and with your money? I know I do. It's not always that easy or fun, but especially when it comes to your finances it's a necessity, don't you think? You need a home filing system that works for you and your family.
The Big Pile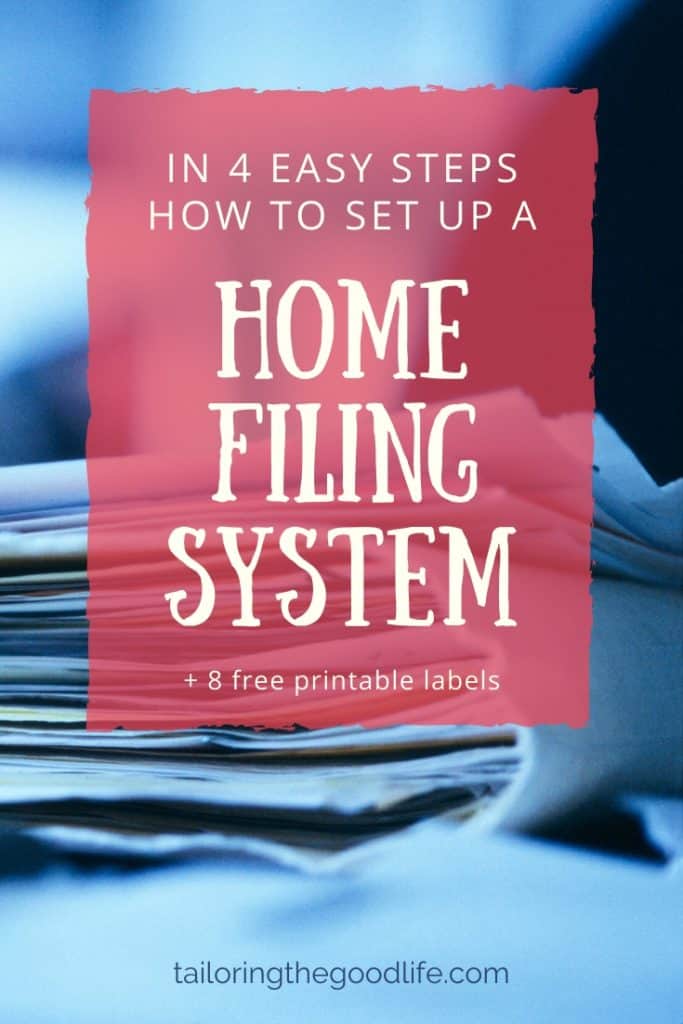 Let me tell you my story. A couple of years ago, I had a Big Pile of paperwork, which I needed to file. I kept putting it off and my pile grew by the day. I didn't want to file, it was no fun and I really dreaded it. But then there were the times I needed some papers from that pile. I dreaded that, even more, to have to look (again!) through all the different papers. There was no logic at all in that pile. I was so fed up! It needed to change. Right now!
So, one rainy Sunday, I cleared my kitchen table and with the Big Pile in front of me, I took a deep breath and just started. I made lots of little piles of papers from it that belonged together. Looked through each and every one, deciding what to keep and what to throw away. It's just like decluttering a room and having the keep, donate, and toss boxes (without the donate maybe).
Taking a 10-minute break to drink a cup of tea with my hubby once in a while, kept me going. It took me the whole Sunday, but in the evening I finished the Big Pile. But now I had a whole lot of little piles! 
Needing a good home filing system, I bought a couple of bright-colored binders and dividers. Every subject got its own colored binder and I started to punching holes in every document and putting it in its new binder. At the end of the second Sunday, I had every piece of paper in their right binder. I was so pleased and proud of myself. The Big Pile was gone!
My home filing system
After taking care of that Big Pile, I never had a Pile like that again. Do you wanna know why? I'll tell you why and how you too can organize your papers. And keep them organized. 
These days I don't dread the middle of the month anymore. Admin Day. Looking forward is another extreme but the days of "I rather don't wanna deal with it" are behind me now. And it's all because I have one thing in place.
If you:
have many piles of papers throughout the house
can't keep up with filing them
have all kinds of papers in your pile(s) from work, from your kids, your household and lots more
You need a home filing system!!
It's as simple as that. In fact, having a system like this is the key to getting, being and staying organized. Getting a workable home filing system, you need to put time and effort into it.
How to set up your own home filing system using these 4 easy steps
Step 1.
First, you gather every paper and every pile. Sit down with it and start sorting. Just like I broke down my Big Pile. You don't need to have all of that finished within 2 hours. It took me several hours on a Sunday. No big deal. Just take your time.
Step 2.
Now you start putting every little pile of papers away in its own binder or filing folder. If you want to, you can buy a binder for every pile or you can work with tabs. I like to work with monthly tabs (1-12) for our bank statements. And I also use colored tabs for our medical binder, dividing the family members like that. 
Step 3.
Once you have that in place, you want to keep it that way. With every paper entering your home in whatever way, be it through the mail, an email that is been printed or your kids bringing it home from school, act on it immediately. DON'T just lay it on the table or in a drawer without doing something with it. This is how junk drawers are happening.
Ask yourself: what do I need to do with this paper? 
Pay it? (a bill, invoice)
File it? ( insurance papers, tax records)
Act on it? (respond, talk it over with your spouse)
Look at the due date. You probably don't need to act on it right away. Just put it in its right place. 
Its right place could be
a transparent document folder
a desktop organizer or inbox
an accordion file folder
I myself have a desktop organizer with 2 transparent document folders (Bills and File). Just don't have one big pile. Separate already when your papers come into the house. It makes dealing with it later so much easier, believe me.
Step 4.
Of course, there comes a time you need to deal with your papers. I set myself down with a cup of tea on every 15th of the month, basically because we get paid on that day. I reserve time for it in my planner. 
Take all your different folders out of your desktop organizer or the papers from your accordion file folder. This is the time you pay that bill or schedule the payment for the future in your online banking system.
After your bills are paid, you are going to file them. Together with other papers you need or want to keep. Like insurance papers, manuals, bank account statements or your receipts. 
If you do this every month (or every week or fortnight if you like) your 3 piles (pay/file/act) will be much more manageable. It will only take maybe an hour (or 2) to get everything in its own binder or in your filing cabinet.
My home filing system today
Nowadays I have just 1 desktop organizer with 2 clear document folders. One says "Bills" and the other "File". When a bill arrives in the mail, I check the payment deadline. If it's not due to be paid before my admin day, it's going in the "Bills"-folder. If it's something else, it will end up in the "File"-folder.
Money comes in once a month on the 15th in our household. On that day I sit down and take the 2 folders. I pay the bills we received in the mail and the electronic ones using online banking. I print the bank account statements and file everything right away. At the end of just a couple of hours, my document folders and desktop organizer are empty! It's such a great feeling. Bills are never paid to late and every piece of paper is traceable right away. 
Set up your own home filing system starting right now
Do you have a good system for filing and administrating your finances? Or do you have a Big Pile of paperwork of your own?
All you have to do is start! Really just start. Make yourself comfy, why not in your PJ's? Put on some music. And set an alarm clock. File for 50 minutes and take a 10-minute break. Work your way through your papers. Really it is so satisfying!
File storage ideas for your paper organization
A desktop document organizer
A letter-sized file-box
Hanging file folders in different colors
A wall organizer
Regular file folders
Different colored binders
Clear document folders
An accordion file folder
A file cabinet
To make it more fun I have 8 colorful labels for you. You can use them on your file folders or on those transparent document folders. Just click the button below to download this fun gift totally free!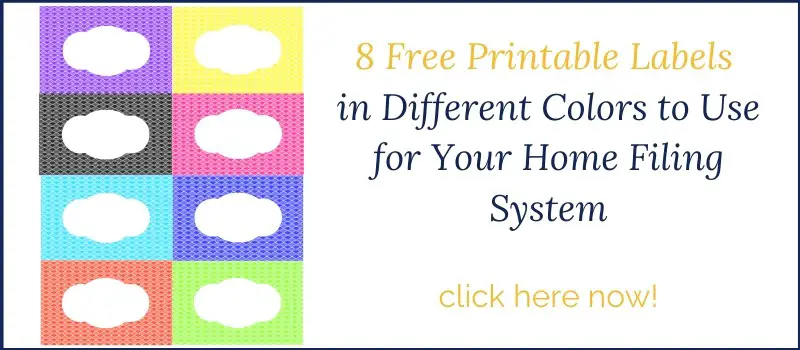 In the end, you are going to save so much time with your home filing system in place. Time you can spend on other things than filing papers. 
Other posts you might like to read are: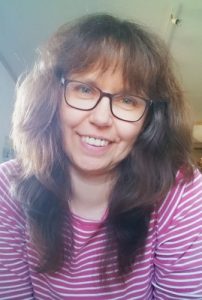 Hi, I'm your time managing and organizing best friend. I am a mom of 3 teenagers and married to my best friend.
I love to show you as a working mom myself, how to juggle your time using routines & schedules and give you time managing tips.