This post may contain affiliate links for your convenience. If you click such a link and make a purchase, I may receive a commission at no extra cost to you. As an Amazon Associate I earn from qualifying purchases. This is one way I am able to keep my blog up and running. For more information, see my disclosure policy here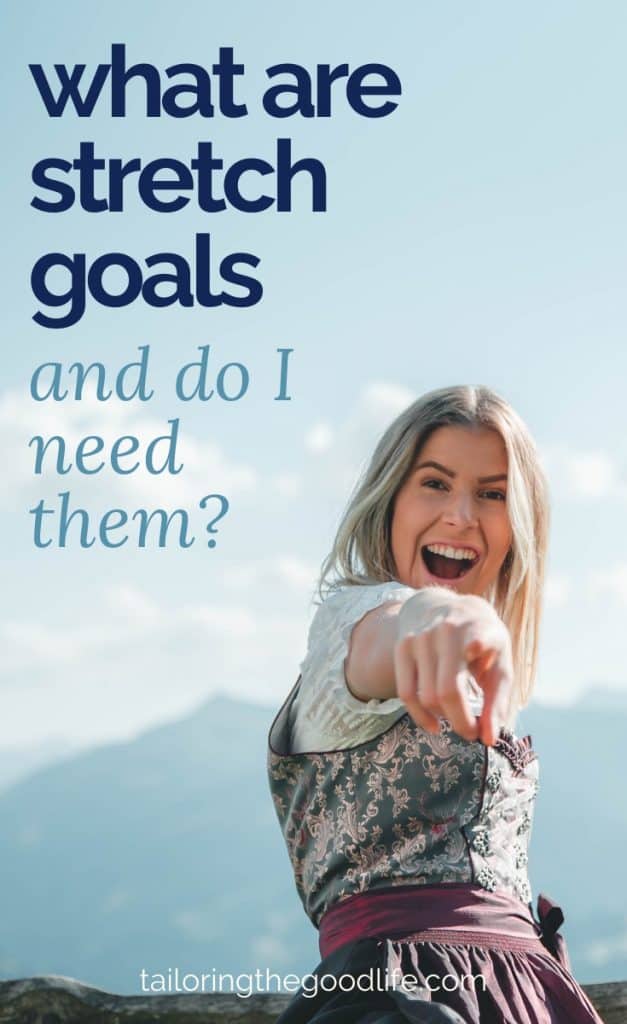 If you're anything like me, you like to set goals and you like to reach them. But did you know there are all kinds of goals? I'm not talking about losing 10 pounds, saving up for a nice vacation far far away, or trying to read 3 books a month. I'm talking about regular goals, smart goals and stretch goals. 
Yes, there are different goals like that. We usually have regular goals or even a smart goal. But maybe you need a stretch goal once in a while. Let's talk about it, shall we?
What are stretch goals?
A stretch goal is something you want to achieve but seems initially out of reach. You could say it is so ambitious that it is almost impossible to get done. 
Stretch goals also are usually long-term goals. But that's not what the word stretch is emphasizing. For a stretch goal, you need to go deeper and out of your comfort zone. Maybe you need to learn new skills or get help from someone else. 
When I first wanted to set up a blog, I didn't know anything about WordPress (the blog software) and all of its features. I even went out of my way and avoided WordPress because I thought I couldn't master it like I needed to do so. I used another blog software and that went fine until I reached its limits. 
I wanted more, so I set myself a stretch goal to learn everything about WordPress and setting up a blog on it. I needed to get out of my comfort zone and needed to learn new skills. I got help from an awesome group of people on Facebook, whenever I faced a problem. It took a while (about 6 months) but I did it. And it feels so great!
The rewards of stretch goals
A good stretch goal will give you the shivers at first. It will make you a bit scared and uncomfortable. And that's a good thing, believe me. You need to get out of your comfort zone to work on your stretch goal. You will grow as a person, as a mom, and as a partner (at home and at work). 
You need to think big. That's why stretch goals are usually long-term goals. Reaching stretch goals takes time, but boy does it feel good to reach those goals. You also need to have confidence and believe in yourself that you can do this. 
The risks of stretch goals
Of course, there are also negative aspects to take into consideration. And that isn't so much the stretch goal in itself, but the foundation on which this stretch goal is based on. Wow, that sounds really "big". 
What I mean is that you need to be sure of yourself that you want to set this stretch goal. And that you want to reach it. Otherwise, it is doomed to fail. You need to be confident enough. And in a way, it needs to feel good to wanna work on this bigger goal. You need to believe in yourself. 
What goals should I set for myself?
When you struggle with all this, maybe it's a better idea to set regular goals first. Work on reaching those. 
It's like this. If you want to lose weight and it is a lot of pounds you need to lose, you have 2 scenarios, to begin with. 
The first scenario: you feel totally ready and you wanna go for it. You have the confidence, the will power and the tools (like walking shoes, an accountability buddy, and the knowledge of how to go about this) to bring this to a success. This is perfect to set yourself a stretch goal. You are going to lose XX pounds in X time. Of course, it is best to break up your stretch goals into bite-sized chunks. And you're going to celebrate every small win along the way. 
The second scenario: you know you probably should lose weight, but you aren't really confident you can do this. Sure the walking shoes are bought, you have found an accountability buddy in your friend and you know that you need to work on it every day. The big thing that is missing is confidence. Plus your will power isn't going through the roof. It is probably better to set yourself a regular goal or even small wins. You need to build that confidence first and you can do that with starting your weight loss journey slowly. 
Motivation
A good goal is motivating us. It's giving us the motivation to work just a little bit harder. You can almost feel and taste what it's like to have reached your goal. A stretch goal is excellent at motivating. You have probably heard this before: you need to dream big! 
Do you need stretch goals?
Be aware that stretch goals can really impact you. Positively but also negatively. If you set a stretch goal and you don't reach it, it can really affect your confidence. Maybe you are going to doubt yourself and you become hesitant to set (stretch) goals again in the future. 
It has a lot to do with knowing yourself and what you could be capable of. Surely you don't need stretch goals. But it is fun to try them out once in a while. See where they bring you and discover how you can grow. 
Stretch goals examples
I asked my friends what would be a stretch goal for them as a very busy woman or a mom. This is what they came up with:
to develop her dancing to audition
to start her own business
to walk at least 4 times a week
to slowly introduce more whole food plant-based meals
to get the house ready to sell
to stay on top of money for tax purposes
to make self-care a priority every day
I love these goals. And I know these are stretch goals for my friends because they are truly busy moms.
OK, it's your turn. Would you like to set a stretch goal? And what would it be?
If you want to read more about goals, check out these articles: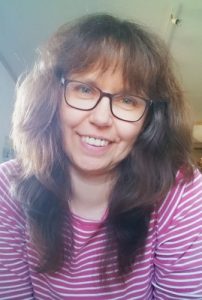 Hi, I'm your time managing and organizing best friend. I am a mom of 3 teenagers and married to my best friend.
I love to show you as a working mom myself, how to juggle your time using routines & schedules and give you time managing tips.