This post may contain affiliate links for your convenience. If you click such a link and make a purchase, I may receive a commission at no extra cost to you. As an Amazon Associate I earn from qualifying purchases. This is one way I am able to keep my blog up and running. For more information, see my disclosure policy here
Do you have an evening routine in place? Would you think it helps you get up in the morning? Maybe you could benefit from some evening routine ideas.
It helps me most definitely. I notice, if I go through my evening routine, I fall asleep sooner and getting up in the morning is easier.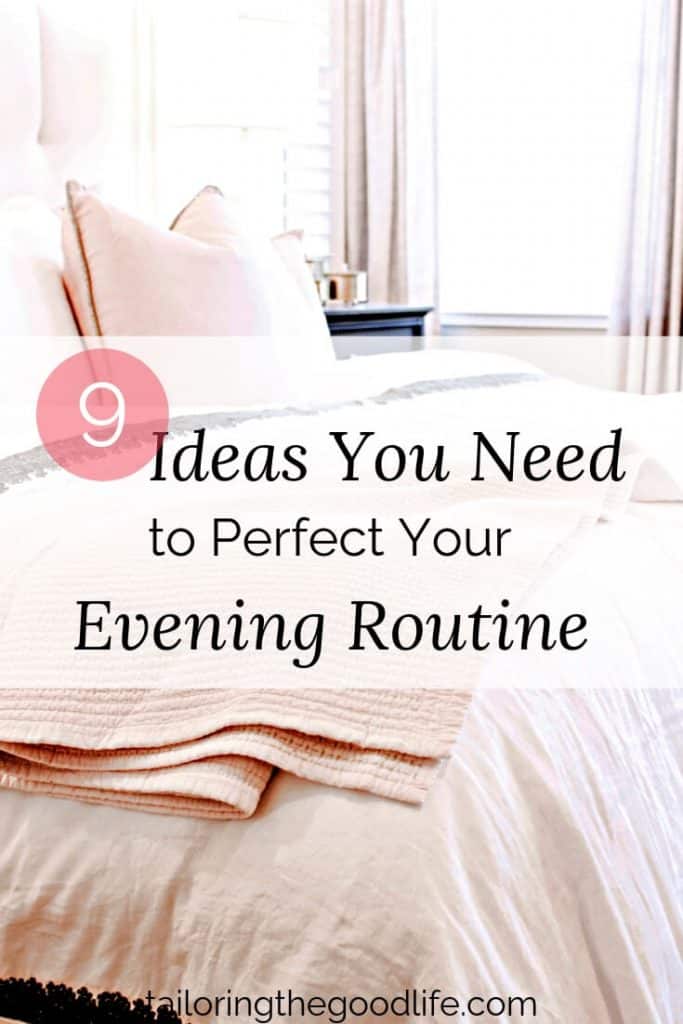 Why it's good to have an evening routine
I already talked about creating habits to start the day positively. It's also helpful to have a good evening routine in place. You can unwind, reflect on your day, and prepare for the next one. A good evening routine can also help with falling asleep. Too little sleep can really make you, not only tired but cranky and even unmotivated to get things done, right?
It's not too long ago, I started with an evening routine myself. And it took me a while but now I actually love it. In the weekends, on Fridays and Saturdays, it's not that easy to go to bed early because the whole family is going to bed at a later time. But I try to let it not get too late because I know I pay the price the next day. Somehow I can't sleep in and I wake up always at the same time each morning. And because of that, I don't sleep long enough. I really need those hours before midnight.
But let's look at what we can do to end our day relaxed for a better morning, shall we?
When does your evening routine start?
It already begins after dinner for me. I clean the kitchen and the dinner table right away. When you sit down and you let it be, being a mess, it becomes an obstacle later in the evening which you don't want to tackle. So put everything in the dishwasher right away, whipe down the countertops, and take a break after that.
We are also including the kids taking turn to do all of this. Running a household is an important life skill and these kind of tasks are great for kids.
After your kitchen is spotless again (spotless, well that's a bit too much maybe, but clean and tidy), you can enjoy your evening like you want to.
Watch some Netflix, read a book, do a board game with the kids or help them with their homework. You can also work a bit on your own projects if you want to before it is time to take the steps to a relaxing bedtime routine.
9 Evening routine ideas
Wondering what to include in a bedtime routine? An hour to half an hour before you want to kill the lights, begin your bedtime routine. It is commonly known that we need to put away our phones and tablets an hour before bedtime. Try it some time, it's really relaxing. After that, you can try a few or all of these 9 evening routine ideas.
1. Journal to reflect your day
You could just write down how you felt, what you are grateful for or one thing that happened today. It doesn't have to be huge.
2. Make a plan for the next day
Write down 1 or 2 priorities. Things you need to do or remember. Clear your mind so you don't lie awake, thinking about it. You could do some time blocking already so you can start your day right away.
3. Set the breakfast table
By doing this in the evening, you're one step ahead in the morning. Sometimes I already make my husband's lunch (yes I spoil the man, it's just to let him know that I love him. And he always tells me he can taste the love in his sandwiches, haha).
4. Read something relaxing and pleasant
Pick up a novel or read a short story that helps you relax. Try to avoid reading on your phone or tablet though. You could have a candle burning or use relaxing essential oils in your diffuser.
5. Take care of your body
When it's time to go upstairs, brush your teeth, remove your makeup, clean and moisturize, you know the drill, right?
6. Put together your outfit for tomorrow
This will save so much time in the morning. At the crack of dawn, you can't think clearly maybe and you spend too much time deciding what to wear. Doing this in the evening saves time and you don't need to rush in the morning.
7. Relax with some exercises, yoga or meditation
Be aware of your senses and focus on the positive. Some exercises you can do when you are already lying in your comfy bed. You not only relax your body but also your brain.
8. Relax
…by feeling and being aware of every body part. "Put them to rest" and work your way from your toes to your head.
9. Dim the lights and go to sleep early
At least early enough to get a good night's sleep everything from 6 to 8 hours. Sleep tight…
Going to bed at the same time
There is another one I could put on this list of evening routine ideas. And that is going to bed around the same time. It helps to tell your body it's time to get some zzz's. And again it helps with falling asleep.
My Fitbit tracker registers my sleeping pattern. I feel more rested in the morning when I go to bed between 10 pm and 10.15 pm. I fall into a deep sleep in the first part of the night and that helps with "physical recovery and aspects of memory and learning" (according to Fitbit).
So tell me, how do you end your day? Do you have an evening routine? Or what could you add to this list of evening routine ideas?
Other posts you might enjoy: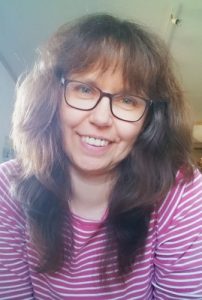 Hi, I'm your time managing and organizing best friend. I am a mom of 3 teenagers and married to my best friend.
I love to show you as a working mom myself, how to juggle your time using routines & schedules and give you time managing tips.