This post may contain affiliate links for your convenience. If you click such a link and make a purchase, I may receive a commission at no extra cost to you. As an Amazon Associate I earn from qualifying purchases. This is one way I am able to keep my blog up and running. For more information, see my disclosure policy here
You're sitting down, to work on your priorities, and after 10 minutes you already get a knock on the door from your teenager. If it's OK to take a shower now… I mean, what?! How can we reduce distractions like these and work in peace for a while?
Types of distractions
This was just a silly example. Although I have had this question asked! However, there are all kinds of distractions. First of all, more and more is demanded of us, as moms, wives, and at work. When we work on our own goals, we can lose focus, because we think about what we need to do in other areas. We are tempted to multitask and that is never a good thing.
Outer distractions
These are obviously the things that come from our surroundings. The notifications on our phones, a ticking clock, or people asking questions (or singing along with their favorite song over and over again). We have all heard the usual: turning off our phones or notifications, working during the wee hours of the day, and so on. But I want to be available by phone, when anyone needs me, like my kids or my elderly mom.
Inner distractions
But there are also other distractions. Those that come from within us. You're not feeling calm enough to work.
My daughter told me the other day, she had her math midterm exam and they had to stay concentrated for a few hours on end. This felt very hard for her. I have read that generally, we need to take a break of 15 minutes after one hour of work. And even that feels like a long time, an hour, without distractions.
Let's reduce our distractions
There are a few things we can do to get less distracted, though. Let me give you 6 strategies to reduce distractions to get things done.
1. Concentrate
This sounds simple, and it is. But you really wánt to concentrate on what you want to work on. Keeping your goals in mind, you focus on only that and try to let everything else go for now.
2. Start small
Having the end goal in mind can be overwhelming. There is the danger, that you feel frustrated and your mind starts to wander. Try to start with one small step of the process. Just working for 10 minutes or so and finishing that one step could give you the boost you need. While you focus on that step you minimize the distractions.
3. An end time
A clock does something with your mind, right? Having a certain time available to do a specific task can really get you going. You concentrate better, and you can focus on what you're working on. You can use the Pomodoro technique for that.
Also, the knowledge of being allowed to take a break is great for your concentration. And distractions are reduced.
4. Close the door
Just now, one of my kids came in to see what I was doing. She was bored. She chitchatted for a while about nothing really and left again. I asked her if she could close the door behind her on her way out.
When you are working and you don't want to be disturbed every 5 minutes, let people know you are working. My closed door signals this message perfectly.
Also, let people know when you will be on a break again. That's when they can chitchat and bother you with their (sometimes silly) questions.
5. Be ready
Have you ever felt, like in the middle of working, you're suddenly hungry or thirsty? You don't want that distract you. So have your cup of tea or coffee, a snack maybe, and all your tools (like a pen, a loaded laptop, whatever) ready so you can work.
6. Know yourself
What do you nééd to concentrate and to minimize distractions? Maybe you need silence to work? Move to another room. Do you need another environment (where you can't do anything about that laundry)? Go to the coffee shop. Whatever it is, do what you need to do, to work on your tasks or goals.
With these 6 strategies in place, you will be able to get things done. What helps me too is thinking about only the task at hand. See myself working on my task and imagining how it feels when you are ready. Maybe this can help you too. Give it a try.
If you liked this article, you might also wanna read these: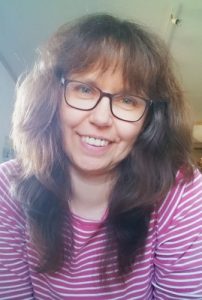 Hi, I'm your time managing and organizing best friend. I am a mom of 3 teenagers and married to my best friend.
I love to show you as a working mom myself, how to juggle your time using routines & schedules and give you time managing tips.