This post may contain affiliate links for your convenience. If you click such a link and make a purchase, I may receive a commission at no extra cost to you. As an Amazon Associate I earn from qualifying purchases. This is one way I am able to keep my blog up and running. For more information, see my disclosure policy here
Earlier I talked about prioritizing and setting priorities to reach your goals. But besides those 1-3 priorities, you work on every day, how many other tasks do you have on your to-do list?
And even, do you have multiple to-do lists? Or are all your tasks and activities on one big to-do list? How does that make you feel? In control or maybe overwhelmed by All. Those. To-Dos?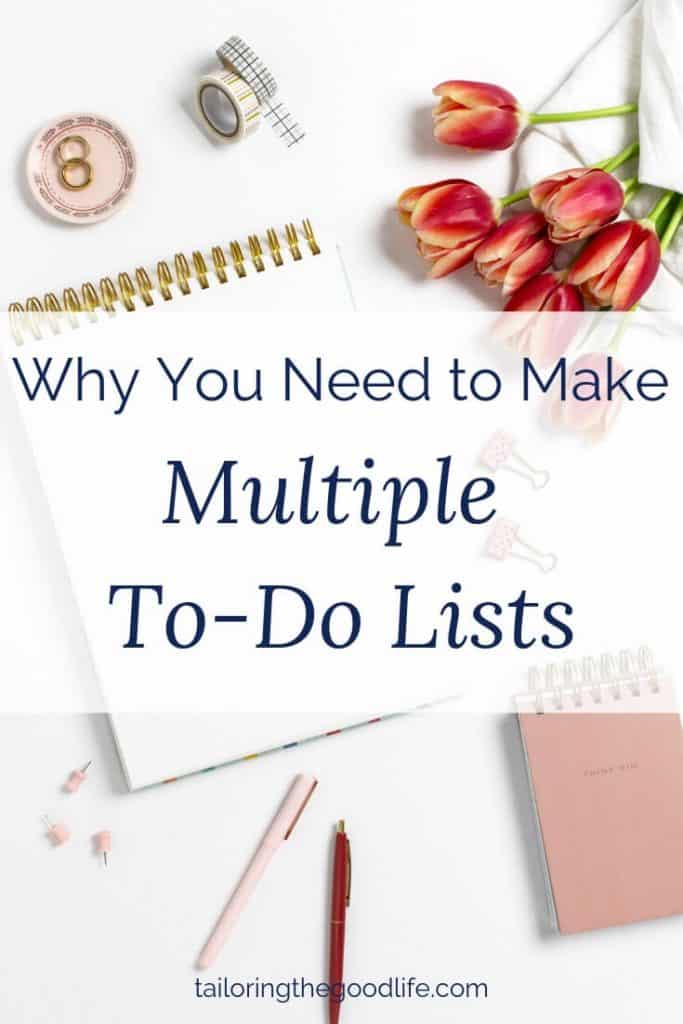 Why do we want to-do lists?
A to-do list is very effective in getting everything out of your head. Like David Allen said: " Your brain is a tool, not a storage device". So stop trying to remember everything. That's where to-do lists come in handy.
Getting tasks you need to remember on paper, makes space in your head, so you can concentrate better on the task at hand. You don't need to be afraid of forgetting something.
It's like going to the grocery store without your shopping list. You don't do that either, right? You make a shopping list to remember to bring all your groceries with you.
What's ón our to-do lists?
Basically, you write every task or job you need to do on your list. Of course, that doesn't mean writing down to get dressed or make dinner. Those are things that are in your daily routine.
It's more like buying a gift for your mom's birthday, attending a meeting with your teenager's teacher, and even making a budget for the upcoming vacation. Things you need to remember doing.
Types of to-do lists
Like I said, you can have one big to-do list, but that can be very overwhelming and even a bit intimidating. You get dizzy from all those tasks on it and you feel out of control.
It's better to write things and tasks down in categories. Or even by timeline. That means having:
daily lists
weekly lists
monthly lists
And maybe
seasonal lists
project lists
You could think of all kinds of lists to get you organized and keep you from getting overwhelmed. Can you imagine having all of your tasks and wishes, ideas and projects on one big list??
How do we make our multiple to-do lists?
Step 1. Start with a brain dump. Get everything on paper and don't even think about organizing anything yet.
This is your main list, your master list. From this list, we are going to make our smaller to-do lists.
Step 2. See if you can group tasks or activities. We have a "house-list" for example. Everything that needs to get done, fixed, or rebuild on the house goes on that list. It's our project list for our home.
But you can also have a cleaning list where all the household chores are collected, including the seasonal tasks like removing leaves from the rain gutter on the roof.
You can make a wish list or bucket list. Things you want to do one day. Maybe you want to declutter your home.
And of course, you have the goals you want to work on. You can also make such a list for the goals you want to reach.
Step 3. Now we're going to look at the timeline. When do you want to get the things and tasks done on your different lists?
You can make a monthly to-do list. Which tasks from the multiple lists fit in that month? From the monthly list, you make your weekly to-do list and divide it even more into daily to-do lists.
The Done-list
This is also an important list: the done-list. You can put everything completed on your done-list. Why would you do that? Just because it's giving you a great feeling. You can look back at what you have accomplished and even learn how long some tasks took you.
I check off the things I have done on a day-to-day basis. It's a great feeling to see all of the "check off"-'s in front of the tasks I wanted to do that day. Plus I journal about my days and write down what I did and what I achieved that day. I make recaps for the weeks, the months, the quarters, and finally the year. But that is maybe just me wanting to it in writing 😉
Where do we "store" our lists?
In my opinion, the best place to make our lists is in a notebook. You can use a bullet journal too or a regular planner.
I use a big notebook for my family and personal to-dos. And I have a business planner for work. It has pages for to-dos, notes, and journaling too. Every quarter, I make new goals and break them up into weekly to-dos. Every Sunday, I make my daily to-do lists and write everything down in my planner, including my appointments and household chores.
Whén will you make your to-do lists?
That depends on which list you're talking about. You can set goals as a family for example at the beginning of the year and review every quarter or season.
A quarterly or monthly to-do list is best made in the month before the next quarter or month starts. And your weekly to-do lists, you make the day before the start of the new week.
The multiple to-do lists help you manage your time, and you are in control of what needs to get done and when it needs to get done.
Other posts you might enjoy: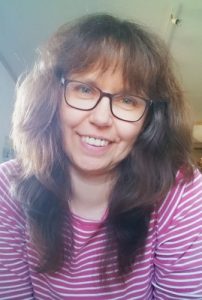 Hi, I'm your time managing and organizing best friend. I am a mom of 3 teenagers and married to my best friend.
I love to show you as a working mom myself, how to juggle your time using routines & schedules and give you time managing tips.