This post may contain affiliate links for your convenience. If you click such a link and make a purchase, I may receive a commission at no extra cost to you. As an Amazon Associate I earn from qualifying purchases. This is one way I am able to keep my blog up and running. For more information, see my disclosure policy here
In our busy lives as working moms of teenagers, we constantly make choices, aren't we? We always have to choose one thing, task, chore, job or activity over the other. We are pulled in a hundred different directions sometimes.
And that's OK, as long as we keep our heads cool and have a plan. But to make a plan, you need to set priorities in life, on a day to day basis.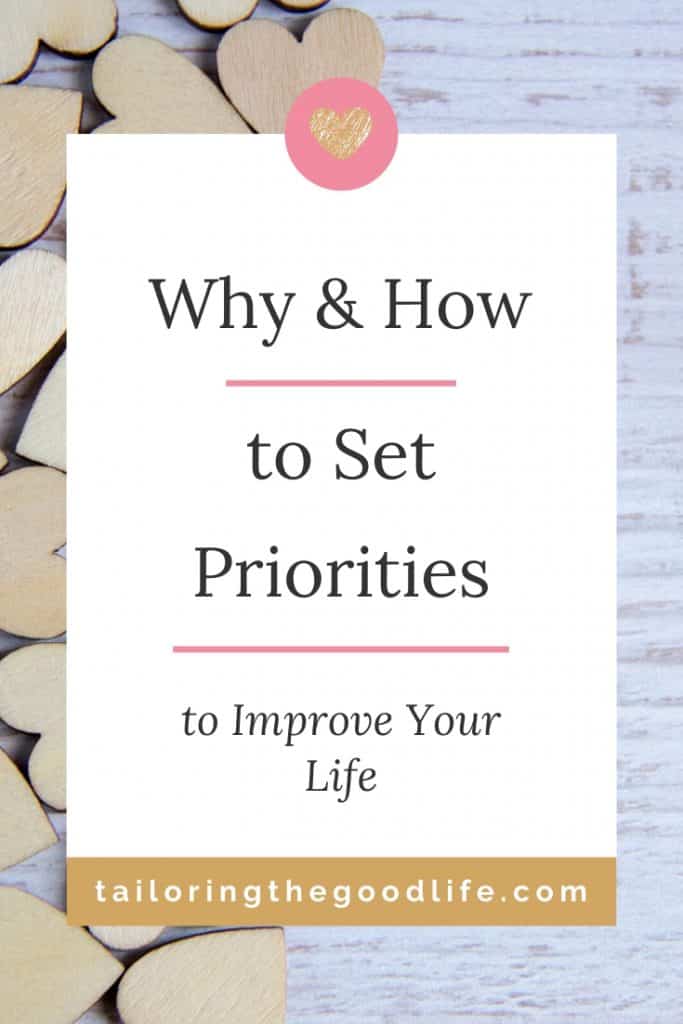 What are priorities?
According to the Merriam-Webster Dictionary the definition of priority is
The right to one's attention before other things considered less important.
So a priority is the most important task you need to do before anything else. But you knew that already, right? Although it's always nice with a little reminder.
How are priorities different from goals?
I understand you could get confused about the difference between priorities and goals. You set goals for your family or yourself and prioritize to work on those goals.
The steps in reaching your goals should be your priorities. Your priorities lead you in reaching your goals.
But you also want to align your goals with what you want to prioritize. When you want to spend more time with your teenagers but you also desire to set up a side hustle, there is a possibility you need to adjust your goals to your priorities. You can't spend the time you have with your teen at night when you also want to work on your side hustle. What do you find more important? That is where your priorities lie, whatever your goal might be.
What is the importance of priorities?
You can see now that the priorities you lie down are important. They are the steps that keep you on track. We need to stay focused on our goal. And to do that, we need to prioritize certain tasks.
OK, we have talked about why it is important to identify your priorities. Let's look at how we are going to accomplish that and how to set priorities.
Identifying your priorities in life.
During an ordinary day, it's easy to get side-tracked by smaller tasks. Think about remembering to call someone, answering that email you read last night, or making an appointment with the vet to have your dog vaccinated. Smaller tasks that pop into your head.
What do I do? I write them down on a little list. Those smaller tasks can easily be done when you have a 5-minute break here or there. You don't want those distract you when you are working on your priorities.
Check out these awesome notepads from Erin Condren, to jot down those little reminders.
We need to identify which tasks will move the ball forward on your goals. Those tasks are our priorities. We want to start working on those tasks first.
How do you set priorities in your daily life
When you want to plan your day and identify your daily priorities, you need to start with your goals.
What do you want to achieve the next year, quarter, month? Break that goal up into smaller chunks, smaller goals. All the way down to what you need to do daily to reach that big goal in the end.
Let's look at an example.
Your goal is to read the 3 books you bought the other day. You want to finish them in 3 months. That means 1 book a month. Each book has approximately 300 pages. Do the math and you'll need to read 10 pages each day.
When you want to reach that goal of finishing those 3 books in 3 months, your priority each day is to read 10 pages. You need to prioritize your reading before watching Netflix or scrolling Facebook. Reading 10 pages becomes a daily priority.
Make a little list of your daily priorities
To have your priorities from day to day, top-of-mind, make a priority list. I like to write them down in my planner. You could also write them on a post-it note or in your bullet journal. Or again use the notepads from Erin Condren, shown above.
But write them down. By writing your priorities down, you get reminded of them all day, and you can check them off, which is such a great feeling. You got a little closer to reaching your goal.
The number of priorities
We don't wanna set more than 3 priorities a day. Remember, you still have to work, you have your family, who want your attention, and other day-to-day stuff, right?
You can have 1 priority for work, 1 priority for your family, life, or household, and 1 priority for yourself.
For me, I want to pin on Pinterest every day, which brings my articles out there for busy moms to read, so I can help them with time management (my work-related priority).
Plus, I'm cleaning one room in our house each day, to keep me on top of my household chores (my home-related priority).
And my 3rd priority is going to bed at approximately the same time each evening, to get enough sleep and wake up refreshed (my personal priority).
I write "pinning" and "cleaning" in my planner each day. Not to remind me necessarily, but to check it off. That gives me energy and motivation somehow.
Another thing to keep in mind, when you write down your priorities for the day, look at them closely. Decide which priority tops the other one. When push comes to shove, what priority is the one you absolutely want to have done by the end of the day. Prioritize your priorities!
Priorities change
Of course, it is always possible that your priorities change over time.
In the example of reading 10 pages a day, there could come a time that it is more pressing to use that time to help your teenager with exams.
That's OK. Sometimes priorities change or you have to prioritize one thing over the other. This could be temporary, for a week maybe. But it is also possible you need to adjust your goals.
Let's recap:
prioritize tasks to keep you from getting overwhelmed and forgetting them
daily priorities keep you on track in reaching your goals
write down your daily priorities to keep them in sight all day and to check them off
set no more than 3 priorities a day
be flexible when priorities need to change because your goals change
Setting priorities and being productive
When you have your priorities sorted out, you can plan your day to be more productive. To help you with this, you can download a list with 12 + questions for increased productivity. Click the image below to print it out.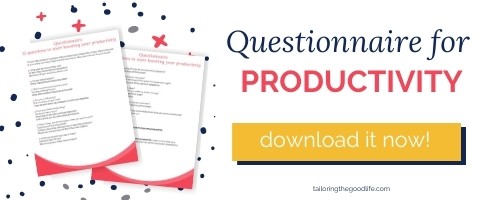 Now that you have the knowledge and the tools to get the most important tasks in front of you for each day, I would love it if you could spread the love. Pin this post on your favorite board on Pinterest or share it on Facebook. You could help someone find this post to improve their lives too. Thanks!!
Other posts you might enjoy: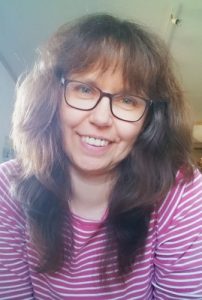 Hi, I'm your time managing and organizing best friend. I am a mom of 3 teenagers and married to my best friend.
I love to show you as a working mom myself, how to juggle your time using routines & schedules and give you time managing tips.