This post may contain affiliate links for your convenience. If you click such a link and make a purchase, I may receive a commission at no extra cost to you. As an Amazon Associate I earn from qualifying purchases. This is one way I am able to keep my blog up and running. For more information, see my disclosure policy here
Keeping up with household chores isn't easy being a working mom. You have a lot of responsibilities. Think about your work, your kids, your marriage, your social life, your family. And also paying the bills, making dinner, checking homework, driving kids around, shopping for groceries and so much more! You are a busy woman!
And then there is cleaning the house. That can also be a major time suck. And it's not always the nicest of jobs, right? What you need is a good cleaning schedule for working moms, amiright? One that doesn't take up all of your time. You wanna spend time having fun with family and friends too. And of course, a little bit of me-time would be nice as well.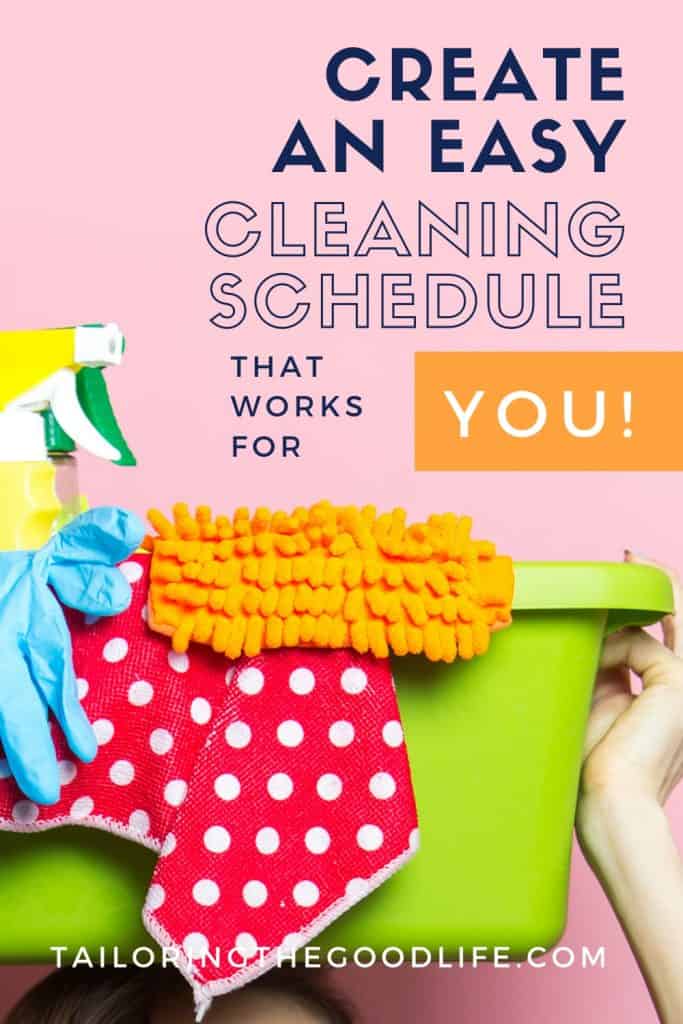 An easy cleaning schedule that works for YOU
What you need most of all, is a cleaning schedule that works for YOU specific. There are a lot of schedules out there, but most are not geared toward your life, right? Every family and every household is unique. So you need a schedule that fits your calendar and your routines. You don't want to live your life around your cleaning schedule. It needs to be the other way around. 
Having it all written down what to clean and when to clean can be a huge time saver too. You don't have to think about what to clean when you have the time available to do some tasks. Chances are without a cleaning schedule you go over your kitchen too often and the bathroom gets forgotten. Well, maybe not exactly, but you know what I mean, right?
The steps to making a cleaning schedule 
Before we look at the actual cleaning schedule in itself, let's look at what you can do to make cleaning a bit easier, shall we?
1. Declutter
Declutter your home as much as possible. I know you don't have a lot of time, but doing this step first can save you so much time in the long run. Think about it, the less you have lying around the house, the less you need to clean. Try to adopt a somewhat minimalistic lifestyle. Get rid of stuff you no longer need or that doesn't serve a purpose anymore. 
2. What NEEDS to be clean?
Make a list possibly together with your family, with all the things and/or rooms that need to be clean on a daily, weekly, and monthly basis. For example the toilets and kitchen counters. I like to have my coffee table neat and tidy every day too. What is important for you and your family? Does everything need to be spotless every day or can you handle a bit of dust throughout the week?
3. Determine WHEN you can clean
We all live different lives and we all have different schedules. As I said before, cleaning your home needs to fit your schedule. Look at your calendar and determine when you have time to clean your home. Can you fit in an hour before work or after work? Maybe you would rather dedicate 2 evenings to cleaning your home, or maybe Saturday morning works best for you. See what fits your life and schedule best. And block off these times to do your housework. 
4. Making lists
The next thing you need to do is write down what your cleaning tasks are. Make a daily, weekly, and monthly list of your cleaning tasks. Think about cleaning the bathrooms, vacuuming throughout the house, and dusting the living room. But also cleaning the microwave, washing the windows, and go through your pantry and freezer on a regular basis. Think of it like you need to explain to a teenager what exactly needs to be cleaned in a particular area or room. Get those details onto paper. 
5. Use a timer
To schedule your cleaning sessions, you need to know roughly how long each task takes you. Maybe you have a bigger kitchen than the average or you have different standards for how clean you want your living room to be. Only when you know how much time you dedicate to cleaning the different rooms in your home, only then can you plan ahead and fit it in your schedule.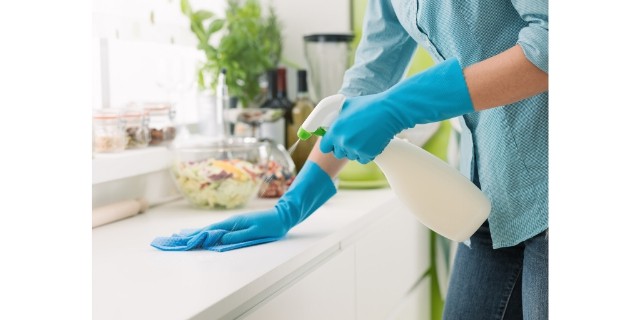 A few more tips to keep the house clean and tidy
Before going to bed, have a little cleaning session and put everything back in its place again. This doesn't have to take long, maybe 5 to 10 minutes will do the trick.
Have a good morning routine and evening routine in place. You could incorporate some tasks there too, like putting things away in the evening, loading/unloading the dishwasher, or putting on a load of laundry.
Let the whole family pitch in doing the household chores. They use the bathroom and the kitchen too, right? So divide the tasks between the family members. 
Are you waiting for the water to boil for your cup of tea? Or you're having a 5 or 10 min break from your work-session? Use these pockets of time to do a quick tidy-up.
Determine your home's sweet spot. What will you tidy and clean every day so you feel your day is a success in that area? It could be your kitchen counters or the coffee table in the living room.
Another thing that is a great help is having the right tools. Invest in some good cleaning tools to help you do your job easier and quicker. 
What if it doesn't work out?
Now I hear you think, what if I make this cleaning schedule and it still doesn't work for me? Try to figure out what it is exactly why your cleaning schedule doesn't work. Maybe you thought you could have an hour after coming home from work. But because you have other obligations, like making dinner right away so you can take the kids to soccer practice, that hour isn't going to happen. 
The only thing you can do is to pivot. Look closely at your schedule, and take everything into consideration. Surely you can find time to have that hour of cleaning on a different day or in the evening. Maybe you need to break up the hour into 2 sessions of 30 minutes. 
Be flexible about this. Because you have different tasks and responsibilities than anybody else, you need to come up with your own cleaning schedule. Yes, it takes a little more time and effort than to print a regular cleaning schedule for working moms off of Pinterest, but it will help you in the long run. 
Help to get you started
To help you out with all this and get you started, I have made for you a printable template to create your own checklist to set up your own cleaning schedule. It's called "My Cleaning Schedule".
Create your own cleaning schedule. Click on the image to download "my cleaning schedule" for free!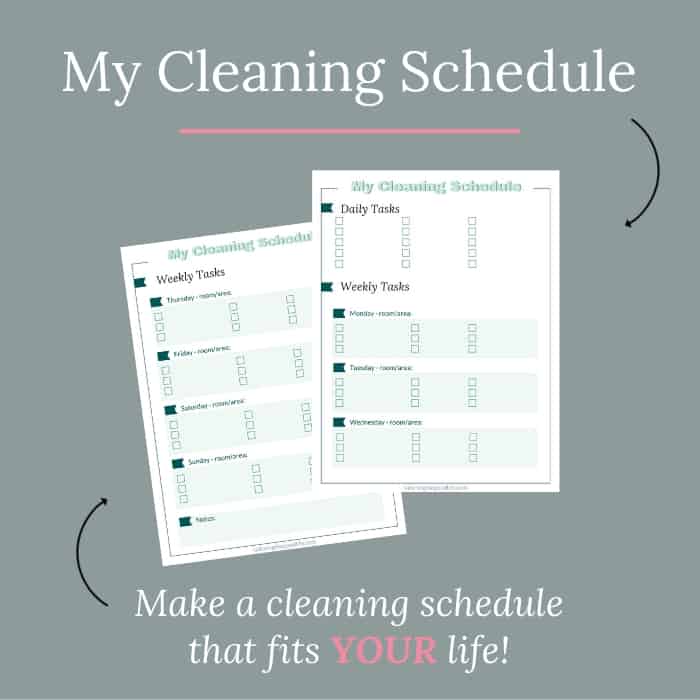 Staying motivated
This is sometimes very difficult. Especially when you get home from work or other responsibilities and you need to get started on cleaning your home. I get that you don't want to do it. That it is a necessary evil. But what you really don't want is to live in a filthy home, right? 
I have read once that you can try to see cleaning your home as a hobby. You want to spend time on your hobbies, right? See if you can change your mindset. There are benefits to having a clean and tidy home. Plus think about the satisfaction and enjoyment you get when everything is smelling nice and your surfaces are tidy and accessible again. 
Just a quick example. I'm not much of a cook, but dinner needs to get on the table, right? I hate it when I have to clean and tidy my countertops before I can start on dinner. It takes all the (little) fun out of cooking for me. So if my countertops are neat and uncluttered, it doesn't feel like such a huge task to get dinner on the table.
Some final thoughts
Now this sounds like a lot of work, right? But when you get consistent with all of this, the areas you clean and tidy every day and every week become easier to tackle. And before you know it, your cleaning schedule takes less time and effort week after week. In the end, more time for fun and relaxing for you and your family.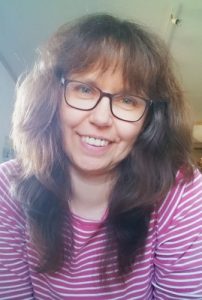 Hi, I'm your time managing and organizing best friend. I am a mom of 3 teenagers and married to my best friend.
I love to show you as a working mom myself, how to juggle your time using routines & schedules and give you time managing tips.