This post may contain affiliate links for your convenience. If you click such a link and make a purchase, I may receive a commission at no extra cost to you. As an Amazon Associate I earn from qualifying purchases. This is one way I am able to keep my blog up and running. For more information, see my disclosure policy here
We already talked about creating an evening routine, right? How it can help you wind down after a busy day. And how it helps you fall asleep easier too.
But having an evening routine also helps with your tomorrows.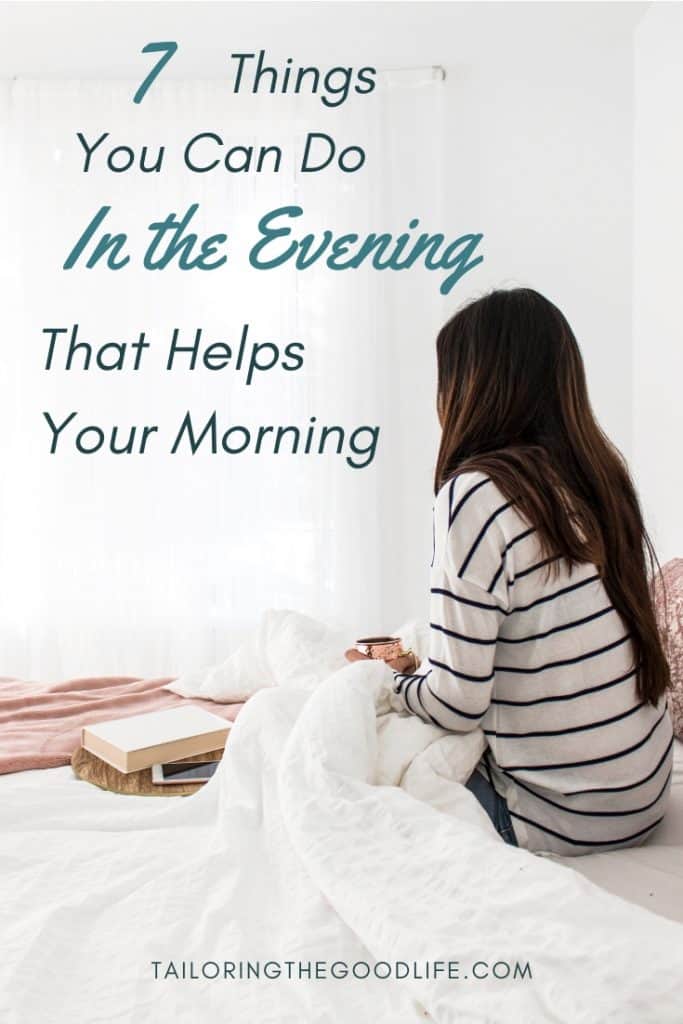 Why do you want to prepare for the morning?
It doesn't matter if you're an early bird or a night owl. We all have to get up in the morning again, right? And what better way than to start your day on the right foot.
You want your mornings to go smoothly, don't you? It's no fun to have to run around, have no overview of what you still need to do in the morning, and getting out of the door being stressed already.
What you already can do in the evening
That's why it's beneficial to prepare already, the night before. It sets you up for a positive day.
I have stress-free mornings these days. I go on autopilot and I really enjoy my mornings. OK, I'm a morning person, I have to be honest with you here. But it's also because I have a great morning routine. And I always prepare my morning the evening before.
Let me share with you the 7 things I do in the evening to get ready for the next day.
1. Tidy the house before turning in
And I don't mean cleaning everything. But picking up around the living room and kitchen. Making sure the coffee table and countertops are tidy. That kind of things. It only takes you 5 minutes tops. Let your kids take their stuff with them to their rooms when they go to bed. It's nice to come downstairs to a tidy living room and kitchen.
2. Set the breakfast table
I always set the breakfast table during the week and I do that in the evening. I have done so since the kids went to 1st grade. And my kids make their own lunches and breakfast. Besides, it's cozy to come together in the morning before we all have to go our separate ways.
3. Prepare lunches
Because my husband leaves early in the morning for work, I like to prepare his lunch in the evening. Yes, I prepare his lunch, no judgment, please. He does things for me and I do this for him. I don't want him to interfere with my journaling though and him needing to be alone in the morning, makes this the perfect solution. Sometimes our oldest also makes her lunch before she turns in. That way she can stay in bed a little longer in the morning.
4. Check the meal plan
I like to check what's for dinner and see if I need to do something for that. It could be taking the meat out of the freezer for instance. I know I forget about that in the morning. It happened to me more than once. So I try to think about it before I go to bed.
5. Pack your bag in the evening
For my family, that applies, especially for our teenagers. I work from home, so I usually don't need to pack. Sometimes when I have to go out later in the day and I can take some work with me, I make a little list of what to bring. That way, I don't have to think about it when I'm on my way out and be afraid I forget something.
But my kids need to bring their bags to school every day and need to pack them. I encourage them to pack their bags before they go to bed. Let them check what they need the next day. It could be books, gym clothes or swimming gear. And they need to charge their laptops to take to school.
6. Choose your outfit for the next day
You don't want to waste time standing in front of your closet and not being able to decide what to wear. So do that in the evening. I like to lay out my clothes the night before. You can also do that with your sportswear if you want to go for a run or hit the gym early in the morning. This will save you time most definitely. Luckily, my husband does this too, so he doesn't wake up the whole household early in the morning.
7. Make your to-do list
Do you want to get to work right away after your morning routine? Then it's essential you know what to do, right? You don't want to waste the first 15 minutes or longer coming up with what you need to do today. You don't want to forget things. Write that list the evening before, so you can get right to it in the morning.
To help you out with planning your tomorrow, I made a printable "The Evening Cheatsheet for Tomorrow".
You can find it in the Resource Library. If you don't have the key yet, fill in the form below and I will send it to you.
Do you take care of certain things the evening before so your mornings are peaceful and more relaxing? Share them in the comments. I would love to hear from you.
Other posts you might enjoy: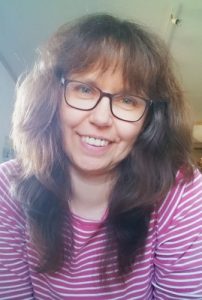 Hi, I'm your time managing and organizing best friend. I am a mom of 3 teenagers and married to my best friend.
As a working mom myself, I love to show you how to juggle your time using routines & schedules and give you time managing tips.