This post may contain affiliate links for your convenience. If you click such a link and make a purchase, I may receive a commission at no extra cost to you. As an Amazon Associate I earn from qualifying purchases. This is one way I am able to keep my blog up and running. For more information, see my disclosure policy here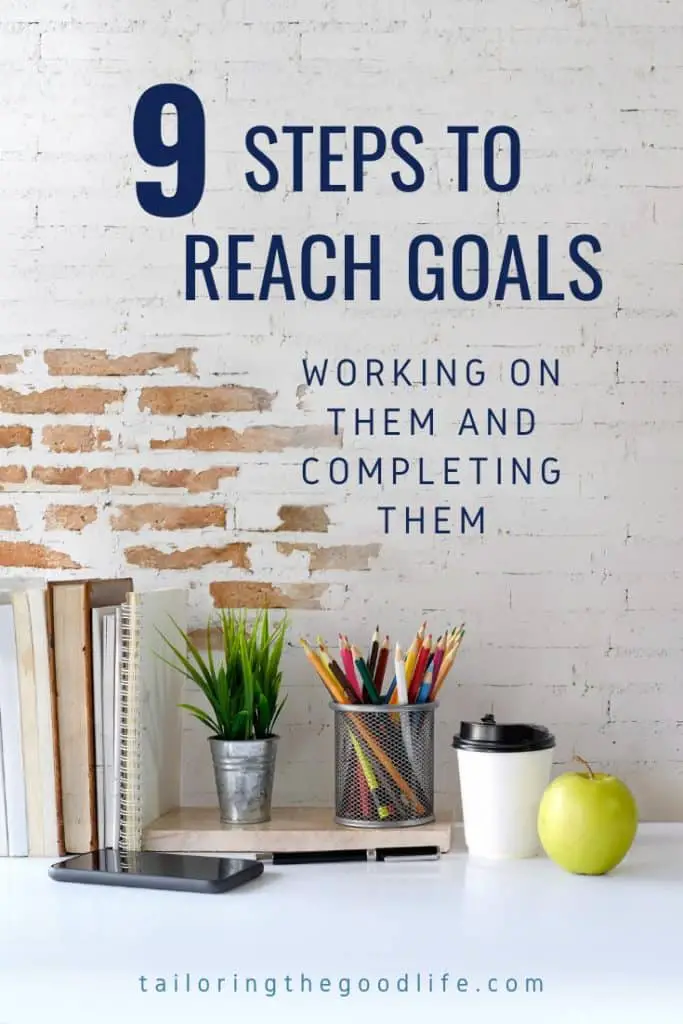 When you want to change something in your life or to work on a certain part, the best way to get results is to set yourself a goal to get there. OK, so you've set your goal. You went through all the steps to identify this goal, you are specific with your goal, you've set your self a deadline. All that good stuff. What you need now are the steps to reach your goal.
Because it's all well and good to have them written down but now comes the hard(er) part. You need to start working on it.
Let's go through the steps to reach goals.
9 Steps to reach goals
1. Commit to your goal
This might be the most important step. You need to believe you can reach your goal. Once you believe that this goal is doable, you can totally commit to it. Without believe, you are more likely to quit even before you've begun working on reaching your goal.
2. Make a plan of action
When you have a big goal, that can be overwhelming. Aiming for the sky is all fine and dandy, but it's impossible to jump so high you reach it on the first try. What you need is a plan of action. 
How are you going to reach your goal? What are the steps (smaller goals) in between where you are right now to where you wanna be? Also, think about a timeframe regarding the steps (smaller goals). When do you wanna have reached your big goal but also your smaller goals? 
3. Foresee the future
Reaching a goal is never easy. You're bound to run into some challenges and obstacles.
What are some obstacles you can run into? Identify them and write those obstacles down to take them into account. You know, if you think about it, when you want to achieve something big, there will always be difficulties to throw you off your game. 
The best you can do is to think about those roadblocks and come up with a solution before they happen. How are you going to handle this situation? What is the best approach to get past this obstacle and move forward with your goal?
Whenever you anticipate a hurdle in reaching your goal, you are more likely to overcome it and that will help you in your commitment and of course, your confidence to reach the goal.
4. Prepare by knowing what you need
Whenever you wanna accomplish something and you set yourself a goal to do it, ask yourself, what do you need in order to reach it. Do you have all the skills? Maybe you need to learn how to use a tool. Or sign up for a specific course. Maybe you do have the know-how and all you need is a little freshening up. 
5. Get some accountability
Sometimes to stay on track, you need your own cheerleader. Someone who is there for you to help you push through the harder parts and to celebrate the wins with you. An accountability partner is your best bet. She will encourage you to reach your goal. 
6. The right mindset
In order for your goal to be reached, you need the right mindset. You need to be positive and have the motivation to work on your goals. When you start by thinking, I'm setting this goal, but how on earth am I going to reach it, the steps you need to take are going to be a lot harder.
Knowing why you wanna reach this specific goal is a great starting point. Be committed, enthusiastic, and passionate about your goal. 
7. Start now and start small
It's time to get started. You have everything worked out and ready to go. Don't wait until tomorrow or when the time is right. No better time than the present, right? 
Start today and start small. That could be eating a healthy lunch (weightloss journey), transferring some money into your savings account (saving for a family trip) or decluttering that one junk drawer (minimalizing your home). 
8. Stay focused
In order to reach your goal, you need to keep your eye on the prize. Stay focused during this process. Work the steps of your goal into your schedule. Maybe you need to create some new habits to make this goal easier to reach. For example, get out of bed 30 min earlier to do some yoga exercises. 
To have your goal front and center, you can write them in your journal every day. Write down which step you want to work on in the morning and review how it went before you turn in.
9. Reward yourself
To make reaching your goal, even the smaller goals fun you want to reward yourself. This is a great motivator and keeps you enthusiastic. A nice reward could be going to a movie with your accountability partner. Or enjoy a spa evening in your own bathroom. It doesn't have to be big or cost a lot. Just pamper yourself one way or the other.
There you have it, the 9 steps to reach goals. Follow these steps and you're good to go, you have everything you need to reach whatever goal you set yourself. Come on, let's go for it!

Not sure what goal you wanna set for yourself? I have some food for thought for you.