This post may contain affiliate links for your convenience. If you click such a link and make a purchase, I may receive a commission at no extra cost to you. As an Amazon Associate I earn from qualifying purchases. This is one way I am able to keep my blog up and running. For more information, see my disclosure policy here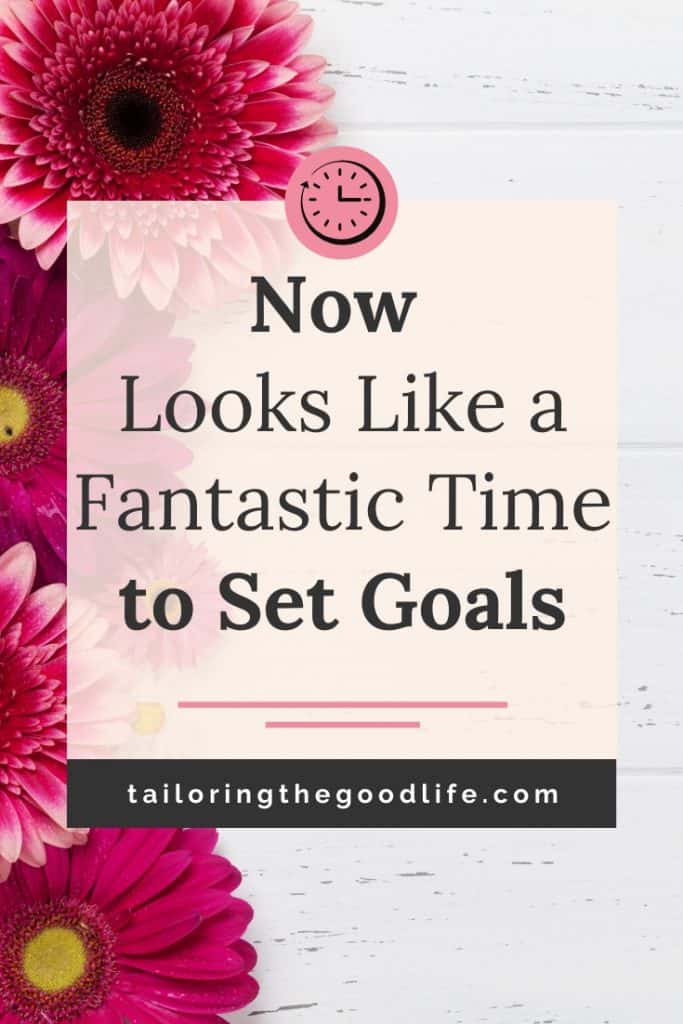 Setting Goals. You can find a lot of information online on how to set goals, what kind of goals you can set for yourself or about setting goals for your family. And then how to reach those goals. 
And you probably think January is the best time to set goals, right? I did too. But January goals as more likely to be resolutions. I learned that "a resolution is a firm decision to do or not to do something. A goal is the object of a person's ambition or effort; an aim or desired result".
January Goals
If you have set a goal in January, think about it. Was it a goal or was it a resolution? And if it was a goal, how are you doing? Are you making progress in reaching that goal? Or maybe you have had a set-back and you feel like you have failed already. 
It's possible you've set a goal for yourself, but you haven't even started taking a first step in the right direction. Lack of motivation could play a role too. Could be you need to switch up your schedule somewhat to even get started. January 1 wasn't the best time maybe and that's ok.
Best day to start a goal
When you set yourself a goal you want to reach, you basically start on a new adventure, on something new. It's the start of a new beginning. 
People often see Monday as the beginning of the new week. Therefore Monday tends to be the best day to start on your new goal. 
Think about it. How often do you tell yourself, I'll start on Monday. Monday also is often the day you get back into your routine, after the weekend, after a vacation, after the holidays, right? So it makes perfect sense to think of Monday as the best day to start a goal.
Start on the first
What if Monday isn't the first day on the calendar? I mean the first of the month, first of the quarter, or first of the year? There is absolutely no need to start a goal on the first of the month, quarter, or year. You don't even have to wait until a new month, a new quarter or (heaven forbid) a new year starts.
I have started projects, quarterly projects that began December 1. Ok, to be totally honest, I like to start on the first, but that has something to do with remembering and ease of checking numbers. I don't mind if it's a Wednesday or Saturday for that matter. 
A fantastic time to set goals
There are a lot of "special" days to start with a goal. And when I say special I mean special to you. You need to have the feeling that it is the right moment to start. That day needs to mean something to you. When you start at such a day, you feel refreshed, ready to go for it, and confident you're going to reach that goal.
A few examples of these special days are:
Today
They say, there is no day like the present. And with good reason. Why postpone something you wanna do for a while and just go for it? Make sure you know what steps to take to make this goal a success. And then just jump in today.
When a goal is reached
Whenever you have reached a goal, first celebrate and enjoy reaching your milestone. And then, think about what you wanna accomplish next. After reaching a goal, and you're still on a high, is the perfect time to set a new goal and take the first steps already. 
Back to school
When school starts again after the summer vacation, your teens can set goals for themselves for the next school year. Why not join them and set yourself a goal too? You can work on your goals together and cheer each other on. 
On your birthday
I know this mom that sets goals for herself on her birthday. It's the start of a new year, right? Specifically YOUR new year. Your birthday is a day where you look forward to what's to come, so why not set yourself up for success? What's a big goal you wanna set and reach by this time next year? You can celebrate the day you came onto this earth plus the goals you have reached!
Start of something new
The moment you start something new can be the perfect moment to start on your new goals. Think about the first day of a new job. You can start with exercising, by walking to your new workplace or taking the stairs instead of the elevator in the building. Or cutting back on coffee by taking a water bottle with you to your new job.
Maybe you are going to take a class or going back to school yourself. These kinds of moments are a perfect time to set goals. Try to incorporate it into your new routine.
Moving
There is nothing more lifechanging then moving out of your house. Well, maybe that's a bit over the top, but you know what I mean right? When you and your family are going to move to another home (in another town, state, or even country), that could be a perfect time to have reached the goal of decluttering your current house for example. 
When you are in your new home, you could set a goal to be all packed out by the end of a certain time and as a cherry on the cake, throw a housewarming party. 
Chasing your dream
Deciding to go after a long lost dream can be a perfect time to set goals. Why just keep your dream in the back of your mind and let it linger? Act on it when you have the chance. Set yourself a goal to reach whatever you wanna do. Maybe you wanna write a book or start a business on the side. Go train for that marathon you've always wanted to run. Go after your dream!

A preferable end date
Sometimes it's not a question as to when to start your goal, but when you wanna have reached your goal. Take this marathon for example. The end date is kinda set, right? So in this case, you need to work your way back to a starting date. How long will it take for you to be ready for this marathon? Work out the steps and the timeframe. That way you find your starting time for this particular goal. 
So you don't have to wait for the perfect time to set goals. Any time can be a fantastic time, just work out the steps and go for it!
Wanna read some more?