This post may contain affiliate links for your convenience. If you click such a link and make a purchase, I may receive a commission at no extra cost to you. As an Amazon Associate I earn from qualifying purchases. This is one way I am able to keep my blog up and running. For more information, see my disclosure policy here
Have you survived the Holiday season? I bet you are glad you can go back to routine, right? I know I'm always happy when it's January (or August)  and we all can follow our usual schedule again. Even our teens are glad they can get back to school. Well, maybe not as much as back to school, but at least back to routine. At least they see their friends again and that's always a happy moment.
Advantage of routines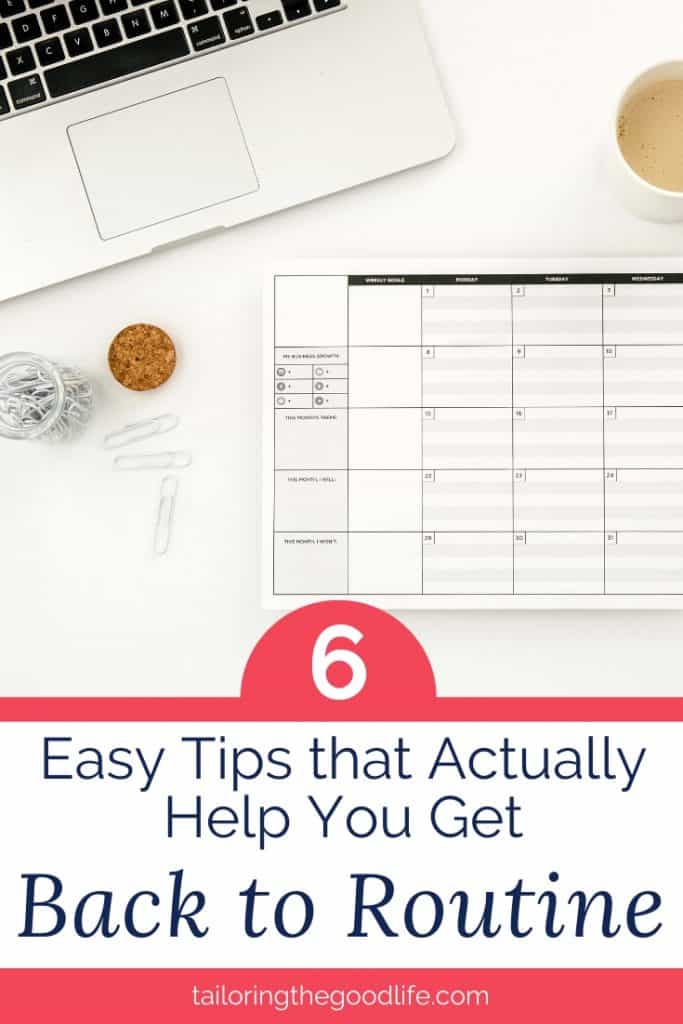 I think you agree with me when I say that routines have their advantages. You don't need to think about certain things to do. You basically go on autopilot, for example when you have a morning or evening routine.
Think about your morning routine. Usually, the tasks I do in the morning, I do without much thought. Those just happen, like unloading the dishwasher and journaling. I try to keep this routine going at the weekends but even then it's sometimes hard because of the laid back start of the day. Let alone keeping this routine going in the vacations and during the holiday season, right?
Same goes for eating healthy again. Especially during the Christmas season, we all let the healthy habits slip a bit, right? Getting back to eating regularly and healthy meals together and drinking more water again can make all the difference. 
Getting back to your daily routine
With our kids going back to school and us going back to work, we need to get back into the game. Let's see what we can do to make that happen.
Back to school
When kids go back to school, you automatically get back into some sort of routine. They need to get up early again, get breakfast, go to school, and do their homework after they get back home. 
It's kind of a forced routine right? What we do at our home, is condition them and ease them into the routine again by starting a few days before. Our teens go to bed earlier and they don't sleep in that late anymore. 
Get back to eating regularly again too. Eat breakfast together (if that is possible) and get dinner on the table at your usual time again. That way everybody benefits and the changes of back to school or work aren't so abruptly.
Back to exercise
What also helps to get back to your daily routine, is getting back to the gym. Or at least some sort of exercise. Maybe you do yoga, could be at home or in a group. It doesn't matter, just start again with your activities already, even if your group hasn't started yet. When you get that back into your schedule, it helps with getting back into your routine too.
Back to decluttering
Start with clearing everything away from the holiday season. It could be Christmas, Easter, or Summer vacation. Once you pack up the ornaments, Easter baskets, or the tent and suitcases, your normal day will be easier to get to. It gives me a sense of quiet when I get back my living room after it was packed with a Christmas tree and decorations all over the place.
When you pack away your things and get your home in order again, no doubt you will bump into things your kids need for school. Maybe they need a new pair of shoes for PE or a new pencil case or something. 
Also picking up decluttering again can give a sense of getting back in control of your home again. I find it suiting almost, planning for a good decluttering session. So put it on your schedule again.
Back to your to-do list
Thinking about what you wanna do, be it goals you wanna reach or things you wanna pick up again, let's you make a to-do list. You write down what comes up, and do a braindump of everything you can think of. 
Take it from there and make your to-do lists. Get back into the routine of checking off and celebrating the wins. To-do lists make planning and scheduling a whole lot easier. 
If you could use some help to get the day started, and be a little bit more productive during your day, download the Questionnaire for Productivity.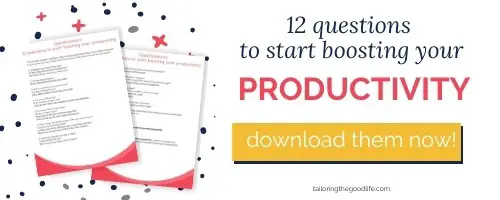 Wanna go straight for a bunch of tools and worksheets that can help you boost your productivity. Check out The Productivity Bundle in the shop. In it, you'll find a Plan for Today which is perfect for getting back to routine.
Back to good habits
It isn't always easy to get back to those good old habits. Especially after a long break, like Summer break. You wanna stay in the mood for a little bit longer, I get it. But that doesn't help you get back to routine. 
So get in the right mindset again and leave that daydreaming behind you. You can always daydream on the weekends. 
Of course, you can also develop some new habits after a break. It's all up to you.
Back to a good night's sleep
What really helps me get back into the routine, is getting back to my evening routine and waking up early again. Let my body know it's back to the daily. 
Start with getting back to bed at your usual time. If you can't fall asleep, don't worry. Read a bit or do some meditation exercises. Let your body and mind know it's time to take it easy. This I find, is easier than waking up earlier after a late night. You do need your hours of rest, right?
So go to bed at your usual (earlier) time again, set your alarm, and get your booty out of bed. Don't hit that snooze button, even though you don't need to get up yet. Let's condition your body and mind for what's gonna come eventually. 
Take your time
Getting back to routine isn't always easy. Give yourself time to ease back into it. You need to get used to your routine again. Especially after the summer vacation, when your teens change classes or have other extracurricular activities than before their break. 
Your routine can also change after switching jobs, yours or your husband's. Maybe you (or he) have other work hours. Don't beat yourself up about it. You'll get back to it. 
The key is to take it easy and start small. And you can do that already before your break is over. And remember, even though you need to get back to routine, that doesn't mean you can't schedule some fun for the weekends!
Wanna read some more about this? Here are some good articles to start: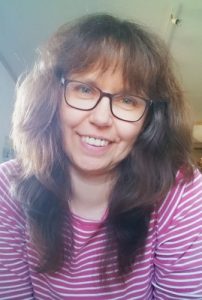 Hi, I'm your time managing and organizing best friend. I am a mom of 3 teenagers and married to my best friend.
I love to show you as a working mom myself, how to juggle your time using routines & schedules and give you time managing tips.