This post may contain affiliate links for your convenience. If you click such a link and make a purchase, I may receive a commission at no extra cost to you. As an Amazon Associate I earn from qualifying purchases. This is one way I am able to keep my blog up and running. For more information, see my disclosure policy here
As parents, we teach our kids all kinds of skills. That's our job being a parent. But have you ever thought about goal setting for teens? Do you teach them that skill? Maybe you don't set goals yourself, let alone teach your kids about it. But I have learned (later in life) what benefits goal setting has. So I'm going to teach my teens too.
Why are goals for teenagers important?
If you wanna accomplish something, or you have a dream you want to pursue, you need to act on it. Goal setting is perfect for that. However, goals and dreams are not the same things. When you have a dream, you need steps to make that dream a reality. That's were goals come into the picture.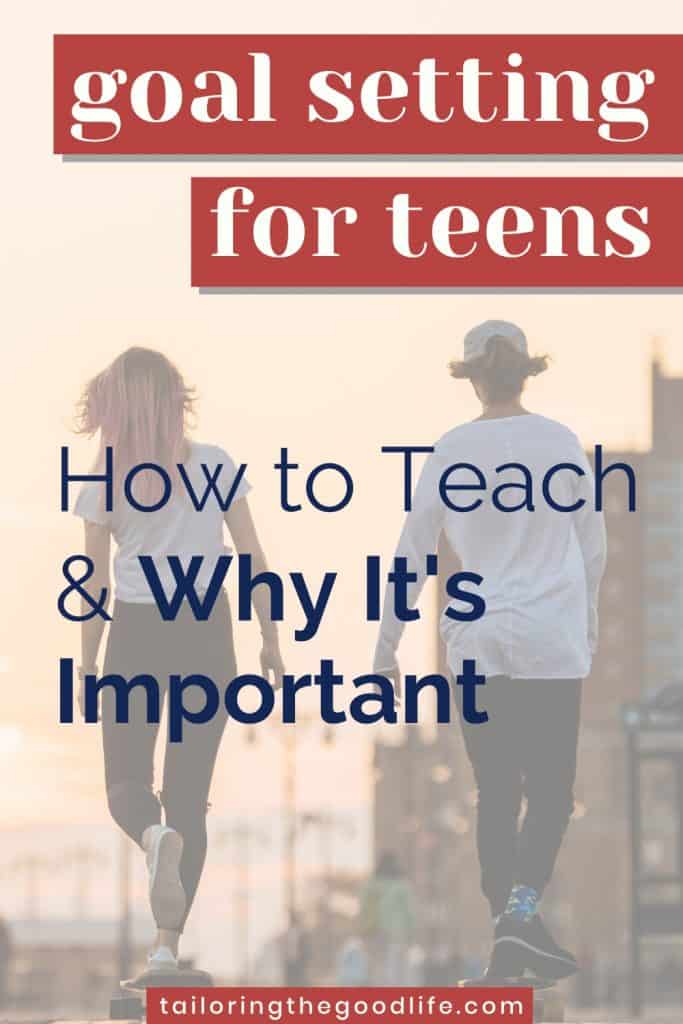 My oldest told me the other day, she wanted to be rich ( 😉 ). One of the long-term goals for teens I like. It reminded me of the remarks my kids made when they were still younger.
So I asked her, how she is going to achieve that. "Well mom, I'm going to work really hard and be careful about how I spend my money". I love how the minds of our teens work and what goes on in those brains. Of course, getting rich is a bold dream and as I said a long-term goal as well, but hey, why not take this seriously, right?
She needs some goals she can work toward and try to achieve when she wants to fill her bank account with all that money. Therefor setting goals for teens to achieve their dreams is something we need to teach them.
Goal setting for teens, the benefits
When you ask yourself, "is it important for teens to have a goal?" think about it. Teaching your teens to set goals has a few big advantages. 
1. They learn that not everything is just coming easily. You need to work to accomplish something. It doesn't need to be hard all the time, but you have to put some effort into the game. 
2. Teenagers that have a goal to work toward, tend to be more focused in life. It keeps them from going off track and they are more motivated in general.
3. When your teen wants to buy something bigger and more expensive, they learn they need to save money. Not a lot in life is free, right?
4. Setting goals can bring out the best in your teen. They learn about themselves, what they are capable of, what their limitations are, and how to ask for help if they need it. 
Parents expectations regarding teen goals
As with any other life skill, kids need to learn how to set goals. Be careful with your own expectations as a parent, though. Of course, you want the best for your kids. But if your teen has set a goal to improve their grade in History, don't push them into learning longer or getting straight A's on their tests. 
You need to guide them and encourage them. Don't say they "have to" or "should" do something or else they won't reach their goal. It's important your teen needs to work on their goal not you as a parent.
How to teach goal setting to teenagers
There are a few things to take into consideration when it comes to teaching goal setting to our teenagers. 
1. It's their goals, not yours.
We all have dreams and goals for our kids. We want them to grow up responsible adults that can provide for themselves and are nice and honest human beings. But when our teens want to set goals for themselves, let them pick the goal. They need to be happy to work on achieving it. The goal needs to give them a feeling of accomplishment. And you don't want them to do it for you, but for themselves.
2. Help them set goals. 
Ask questions, like why do you want to set this goal? Why is this goal important to you? How do you think you are going to achieve it? What are the steps you need to take to get closer to your goal? What things do you need to let go of? Give them the questions and let them figure out the answers. 
3. Offer to help them with their goals.
What kind of help do they need or want? Maybe they need your help by motivating them. It could be they need a little bit of financial help, like a subscription to the gym. And what about an accountability buddy? It could be more fun to study together with a classmate or friend to get that History grade up. 
4. Teach them to review.
It's always good to do a review of how a goal is going. You can help your teen by asking how they are doing with their goal. When they are still on track, that's something to celebrate. By the way, celebrating small wins can only strengthen their confidence in achieving their goal. And whenever they are a bit behind or "failing", you can adjust the goal together. Talk about why this happened. Maybe it was something they originally didn't think about, that would disturb their goal. Helping them back on track is better than letting them give up on their goal altogether.
5. Make it fun!
Teenagers don't want to have a lot of responsibility yet. They want to have fun! So try to show that setting goals and achieving them can be great fun. You can do that by letting them not only set goals for school, but also for things that make them happy, like learning how to play the guitar or saving up for that one-in-a-lifetime concert-ticket. 
The time-aspect
When you are going to teach your teens all about goal setting, start with a short term goal. Something they can achieve in a rather short time frame. Think about getting there in a week, or a month. This will only set them up for success and builds their confidence to be able to set goals and actually reach them too. It's hard for teenagers to focus long-term. Remember, they can't wait until they're all grown up. So keep in mind, start with a goal that can be reached within a week or a month.
Some fun art to have your teen put in his room to remind him/her of the goal they've set.
SMART goals for teenagers
Have you ever heard of SMART goals? I think they are perfect for teaching our teenagers about goal setting. You know, teenagers need to have it all spelled out, right? Well, at least mine do. A simple "can you tidy up the kitchen, please?" isn't doing it here. It's more like "can you clear the table, put everything in the dishwasher, and go over the countertops, please?". You know what I mean, amiright?
So SMART goals are perfect for teens because they need to think about every aspect of the goal. To remind you SMART stands for 
S – Specific
M – Measurable
A – Achievable
R – Relevant
T – Time-bound
Specific: let them write down exactly what they want to achieve, as specific as they can be. 
Measurable: what are the little steps they can take to get where they want to go?
Achievable: is this goal something they can actually reach? 
Relevant: does this goal fit what your teen dreams about?
Time-bound: is this goal achievable in the time frame your teen has set?

Let's look at an example. Rather than set the goal, "I will earn enough money to buy that concert ticket" set this SMART goal: "I need to earn $100 (specific) by May 17 (time-bound) to buy this concert ticket (relevant). I will do that by (measurable) walking the neighborhood's dogs, washing cars, and mowing lawns (achievable)."
Your teen now knows what they need to do to get this goal reached. 
Some fun art to have your teen put in his room to remind him/her of the goal they've set.
And if you want to make your SMART goals even SMART-ER, my friend Sarah explains how to do that here
What are some good goals for teens?
So let's end this article with a few good goals for your teens. 
Let's start with some long term goals for teens.
Learn a skill, like playing an instrument or sewing
Getting good/better grades toward the end of the school year
Get better at planning projects and tasks
Improve on your hobby or talents
Start journaling
Learning to drive and get your driver's license
Save up for a car
Exercise a couple of times a week
Living healthy by not eating junk food
And now for some short term goals for teens.
Find a (summer) job
Save money for something fun like that slightly expensive jacket
Read at least 1 book this month (and maybe make it a long term goal)
Complete your homework every day (it's a daily goal)
Help out a friend or neighbor that could use your help
Talk to your teenager about what they are wanting to achieve. And really listen to them, because it's not always phrased as, "my goal is to…" but more like "I want to…". 
Wanna learn more about goals and goal setting, check out these articles: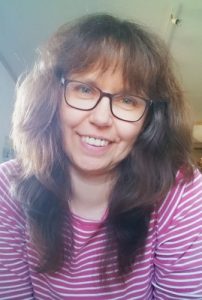 Hi, I'm your time managing and organizing best friend. I am a mom of 3 teenagers and married to my best friend.
I love to show you as a working mom myself, how to juggle your time using routines & schedules and give you time managing tips.