This post may contain affiliate links for your convenience. If you click such a link and make a purchase, I may receive a commission at no extra cost to you. As an Amazon Associate I earn from qualifying purchases. This is one way I am able to keep my blog up and running. For more information, see my disclosure policy here
We know that we need to take a good look around our home and declutter once in a while, right? But sometimes the sheer thought of it overwhelms us. Especially when we have a lot of stuff laying around. 
Well, let me tell you this, you are not alone. Everybody feels overwhelmed like this when they are surrounded by clutter. It's demotivating and it takes away your energy. Not to mention time, when every time you need to look for that one item and it's not where it's supposed to be. Urgh…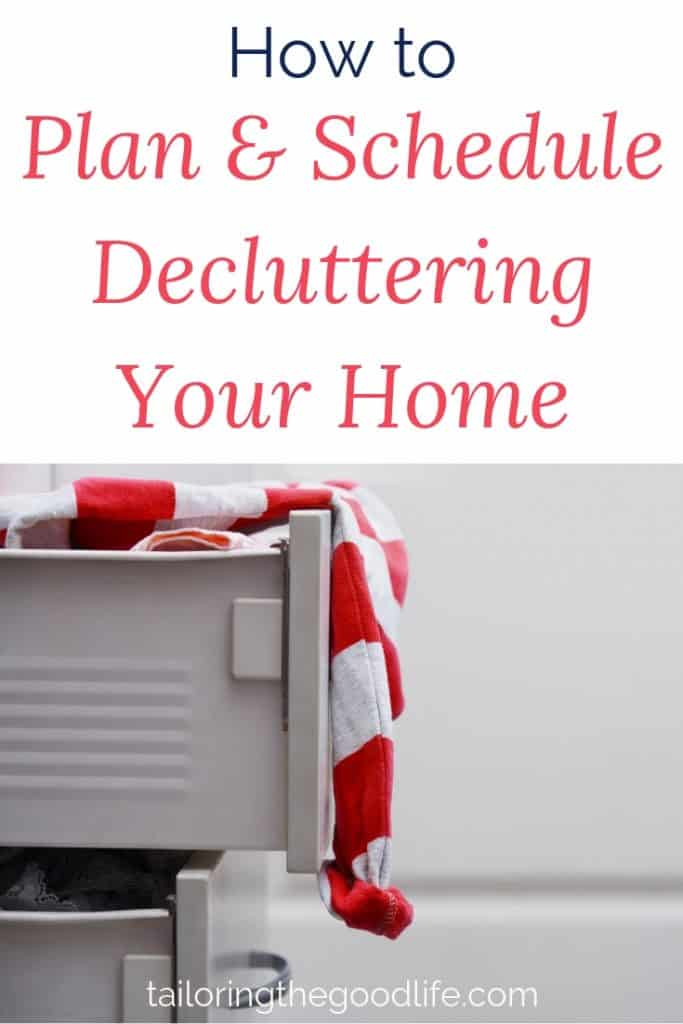 I always feel like this when my kids have vacation and sometimes even on the weekends. I know our home needs to be a place to LIVE in and not be like a museum, where everything is always in its place. But when the clutter gets too much, it really discourages me. It's like nobody sees the clutter, but me. Coats are hanging over the chair instead of on the coat rack in the hallway. Same with shoes, I find them everywhere around the house!! And other stuff is left where my family members don't need them anymore. It's quickly getting a mess throughout the whole house. 

Benefits of decluttering
So why is it good practice to declutter once in a while? 
Stress-relief
If you have a lot of stuff in your home, think about how many times you have that item in your hands in one given week. Unknowingly, you take it from one place to another around your house. And when you need to clean a room with a lot of knickknacks or stuff laying around, it will take a lot more time, than a tidy and organized space. Dealing every day with a cluttered home can cause you stress and you feel like you are wasting time. 
More space
This is a no-brainer. When you declutter the rooms in your home, you create more space for your family to live in. Do you remember that feeling, when you first saw your home before you bought it? It was all empty and you could dance around in it. Wasn't that a great feeling, all that space to put your own furniture and belongings in it? But now, with all the clutter, that feeling has gone right out the window. It's time to get that feeling of space back and declutter your home. It's time to breathe again.
No more shame
How do you feel when your friends come over for a cup of coffee and your home is a mess? A little bit ashamed, right? Come on, be honest here. Of course, you do, and so do I. You don't want to sit and talk with a pair of dirty socks staring you both in the face. Or a big pile of papers and advertising leaflets on the table. When you take the time to declutter your home and get things organized again, you will be able to invite people in for a cuppa without the initial embarrassment when they ring your doorbell. 
Declutter with the family or do it yourself
Whenever you feel like you need to go through all the rooms in your home, you can choose to do it all by yourself or involve the whole family in the process. See what fits your personality and family best. Are you a bit of a control freak (like me) and you want to keep an eye on everything, maybe it's best to do it yourself. Of course, you can ask for help on certain moments, but taking care of most yourself, lets you go on your own pace and you know exactly what goes and what stays. 
However, decluttering with the whole family can certainly have positive side effects. They feel involved in the process, know where things are supposed to be, and the chances of keeping it tidy afterward are bigger. It also teaches your kids important life skills they take with them when becoming responsible adults. 
You can go for a happy medium. Let the kids clean, tidy, and declutter their own rooms. But explain to them before they start, how things work with keep, donate, and toss. Our youngest once decluttered her room and everything disappeared in a big garbage bag. Luckily, I caught her before she threw it out. There were a few things in there, we could donate to the charity shop, and even things she made, when she was a little girl, that I wanted to keep. 
Click on the image to download for free: The Steps to Declutter Rooms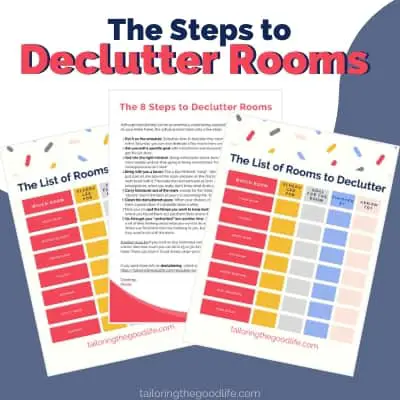 Planning your decluttering
OK, you're all ready. You know why it's necessary to declutter, you're in the right mindset. You know who is going to declutter (just you or the whole family). Now it's time to start decluttering. 
Decluttering is an activity, you usually can't do in a few hours, in an evening, or even on one Saturday. When you want to do it the right way, it takes time. You need to plan for it. Make room for decluttering in your busy schedule. Especially when you are going to declutter with the whole family, everybody needs to clear their agendas to commit to the activity.
Set your goals
You need to know what your end goal is going to be. Which rooms do you want to declutter or need to be decluttered? How much time do you think you need for each area? I bet the bathroom doesn't take as much time as, for example, the garage or your attic. Be realistic. Write it all down, so you can make time in your schedule. When you devote for instance 2 hours to the bathroom, treat it like any other appointment. Don't let something else take away your decluttering time. Decluttering your home is a great goal and you should treat it like that. 
Prepare in advance
Now I know you are thinking about the 3 boxes you need to get: Keep, Donate, and Toss. And yes those are important, but that is not all you need to or can prepare. Put on your schedule which room or area you are going to tackle on which given day. Set a time frame and stick to it. 
What if you're not ready with that room yet? Well, obviously, you can do 2 things. Either continue if you have the time and enthusiasm to finish the job. Or you can shut the door, leave it be and schedule another day or time block to finish it. However, be careful with that. You need to have the determination to continue and complete that room. So don't wait too long with that.
Something that helps keep you going, is preparing your lunch before you start decluttering. Of course, you need to take a break once in a while. That's good for motivation and reminding you of your end goal. Taking a step back for 30 minutes can get things in perspective, a perfect moment to eat a healthy lunch, which you prepped beforehand. 
Before you begin decluttering, think about a little reward for yourself for having done a good job. It could be a nice cup of tea or a glass of wine and some time with a good book or your favorite series on Netflix. Or maybe a massage or spa day when your whole house is decluttered. What about a family day out as a reward for decluttering as a family? It's nice to have something to look forward to. So go ahead and write that down too in your schedule. It could make you eager to start. 
Put it on your schedule
When you know which rooms you want to tackle decluttering, you need to predict or estimate how long you will need to get the job done. You could go for a month or 30 days of decluttering schedule. Maybe you can spend, for example, 8 weeks decluttering and organizing your home. And that doesn't mean, decluttering every day for 8 weeks, but maybe 8 Saturdays. Or 3 evenings per week for 8 weeks. Whatever suits you best. 
But again, put it on your schedule. You could even devote some time-blocks to decluttering. It's a great way to break up your day and keep it interesting. 
Also important, have an end time in mind. When do you want to have your whole house decluttered? It could be before Summer vacation or Christmas. Having a date to work toward helps to keep you going.
Let's recap
Before you start decluttering for all the right reasons, we need to 
Think about wanting to declutter alone or with the family
Set our goals
Prepare in advance
Put it on the schedule
If you want more tips and tricks about decluttering, my friend Karen from Slow Motion Mama wrote a great article about why you need to empty a room before decluttering. And another blogging friend, Sarah from A Simple and Contented Life wrote an article on how to win at decluttering. Go check both out before you begin your decluttering journey.
Other blog posts you might like to read: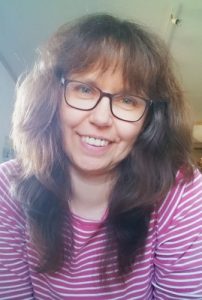 Hi, I'm your time managing and organizing best friend. I am a mom of 3 teenagers and married to my best friend.
I love to show you as a working mom myself, how to juggle your time using routines & schedules and give you time managing tips.